Unfomercials:Milosevic Ethnic Cleanser
Jump to navigation
Jump to search
Advertising Feature
Got hard-to-shift Croats making YOUR neighbourhood look dirty and in need of a good scrub?
Then YOU need..
NEW
MILOSEVIC™
all-purpose ethnic cleanser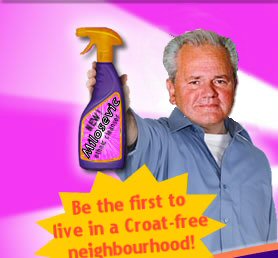 HI! SLOBODAN MILOSEVIC HERE, ASKING IF YOU HAVE PROBLEMS WITH LIMESCALE, RUST OR CROATS? THEY'RE A CHALLENGE FOR SOME ETHNIC CLEANSERS BUT NOT FOR MILOSEVIC™! SIMPLY SPRAY IT ON - AND THE GENE POOL'S CLEAN!
I USED TO DESPAIR AS MY COUNTRY WAS BLED DRY BY FOREIGN PARASITES, BUT THEN I DISCOVERED MILOSEVIC™ CLEANS THEM UP WITHOUT SCRUBBING! NOW MY BELOVED MOTHERLAND IS CLEAN AND THE CROATS ARE FILLING MASS GRAVES!
BELGRADE, NOVI SAD, SUBOTICA, VALJEVO - MILOSEVIC™ CLEANS UP THE LOT! LOOK WHAT IT DOES TO IVAN STAMBOLIC - GOOD AS NEW!
WITH THIS MUCH STAIN-BUSTING POWER, IT CUTS RIGHT THROUGH UNDESIRABLE ETHNIC GROUPS! WATCH IT CLEAN UP THIS CROATIAN SCUM - INCREDIBLE!
OVER A MILLION EXAMPLES OF BEAUTIFUL, GLORIOUS SERBIAN WOMANHOOD ARE AT IT - THEY'RE REPLACED THEIR MULTI-PURPOSE CLEANERS WITH MILOSEVIC™ ETHNIC CLEANSER! NOW THEY CAN SLEEP PEACEFULLY IN THEIR BEDS WITHOUT FEAR OF BEING RAPED BY FILTHY, DEGENERATE CROATS!
MILOSEVIC™ - FROM ALL GOOD SUPERMARKETS AND HARDWARE STORES NOW!


MILOSEVIC™
all-purpose ethnic cleanser