UnNews:White people gone wild
Jump to navigation
Jump to search
18 March 2007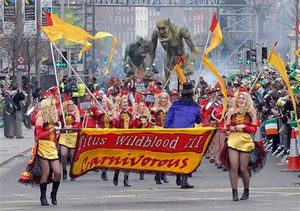 DUBLIN, Ireland -- Byron and LaQuanda Johnson of Detroit, Michigan were awakened early this morning by the sound of loud noises coming from the street outside their Dublin Best Western hotel room.
Mr. Johnson, a retired General Motors autoworker, had this to say, "Man, I knew these Irish people like to party but I completely forgot about this whole St. Patrick's Day celebration. It's like a white man's Mardi Gras out there. The woman and I were in New Orleans for Mardi Gras last year, and in comparison, I have to say, while there's the same amount of puking in the streets, there is more itty bitty white girl titties being flashed. And make no mistake... it's cold out there."
Mrs Johnson, an aide to Detroit Mayor, Kwame Kilpatrick, had this to add, "I don't get why those crazy white folk got to be painting themselves green. I swear, it's like my momma used to tell me, 'there's nobody more uncomfortable with their skin than white folk'. They always want to be some other color than white. Tan in the summer, hell, they tan year 'round now, you see tanning places all over Detroit. Just be happy you white and own everything, them crazy fools."
Mr. Johnson noted, "Well it sure is nice to see them folk having a good time, for once, instead of blaming Mexicans, Asians and us black folk for all their problems. But damn, looks like nobody ever taught them how to dance!"
Mrs Johnson, "Um hmm."
See Also
[
edit
]
Sources
[
edit
]