UnNews:UnNews remembers Ennio Morricone
Jump to navigation
Jump to search
Sunday, July 12, 2020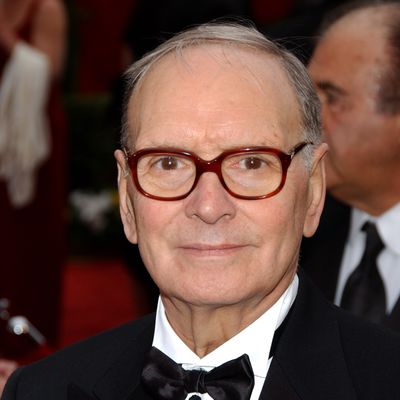 It's one notable death that cinephiles, film score lovers, and music lovers the world over had been expecting soon, but nevertheless fearing. On July 6, 2020, the world lost inarguably the greatest composer in film history, Ennio Morricone.
Given the gravity of this news, and the importance of Morricone's contributions to the cinematic canon, and the legacy he leaves behind, we at UnNews had to take some time to figure out how best to handle this story. Obviously, this isn't the place for fart jokes, poop jokes, terrible dad puns, penis jokes, or shamelessly promoting Nicolas Comics... the Best Comics in the World TM. I also don't want to write something so serious that it forgoes jokes altogether, like something Spike would write on... You know what, I'm not even gonna go there.
Morricone's father taught him how to play the trumpet, which led to a contract with RCA writing pop music and jingles... the kind that could make a grown man weep from just the first note alone. When an old schoolmate of his, Sergio Leone, began his filmmaking career, he hired Morricone to compose the score -- the two men reportedly unaware that they had ever previously met. And the rest was history. The legendary collaboration produced six films:
A Fistful of Dollars
For a Few Dollars More
Duck, You Sucker
Once Upon a Time in America
Morricone invented the "Spaghetti Western" sound: twangy, reverb-drenched, surfy electric guitars; a choir chanting Latin gibberish; a robust orchestra; unconventional sounds such as whistling and coyote howls. Morricone transported you into the Old West.
He did quite a few non-Leone spaghetti Westerns, such as Navajo Joe, Chickasaw Pete, Apache Gary, and A Pistol for Ringo (Which has nothing to do with the underrated Beatle, even though it coincidentally co-stars an actor named George Martin). He scored a few early Dario Argento films, including The Bird with the Crystal Plumage and Cat of Nine Tails.
Eventually, Ennio Morricone crossed over into American films such as The Exorcist II: The Heretic, Orca, Terrence Malick's Days of Heaven, The Untouchables, and John Carpenter's The Thing. Carpenter usually writes his own scores, but enlisted Morricone this time around. Curiously, Morricone's score sounds like Carpenter anyway.
He wrote the score for a movie called Cock Crows at Eleven. No joke. Well, I guess this was the place for a penis joke, after all. And he also did a 1979 film called Footloose, which has fuck-all to do with the 80s Kevin Bacon classic. Unfortunately, Kenny Loggins will never be Ennio. No matter how good "Footloose" and "Danger Zone" are.
One of his best remembered film scores was Cinema Paradiso. He did a few films you wouldn't expect from him, such as In the Line of Fire, Jack Nicholson's Wolf, Lolita (1997), Mission to Mars, Warren Beatty's Bulworth, and The Phantom of the Opera (1998). Let's not forget The Mission.
Morricone received an honorary Oscar in 2007.
Quentin Tarantino is a noted fan of Morricone and had used his music in several films. He was lucky enough to enlist the legendary Maestro for his violent 70mm Western, The Hateful Eight. After putting every blood, sweat, tear and fart into the score, the Academy finally decided "Fuck, let's give him the damn Oscar before he croaks."
The composer's final credit on IMDb was Maxwell Whiteman's 2020 short film On the Road, which the Mastro shares with John Blakely and Willie Nelson. And yes, I can confirm that it is in fact that Willie Nelson.
This concludes UnNews's remembrance of cinema's greatest composer. Your move, John Williams and Danny Elfman.
Sources
[
edit
]