UnNews:Trump urges Van Helsing: "STOP THE COUNT!"
Jump to navigation
Jump to search
Thursday, November 19, 2020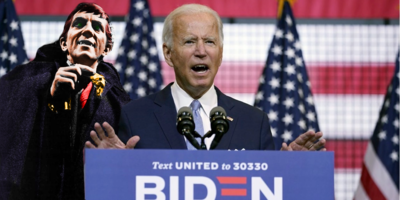 WASHINGTON -- Impeached, unseated, soon-to-be-former "president*" Donald Trump is having trouble with nocturnal bloodsuckers.
On November 5, Trump tweeted:
Donald J. Trump
@realDonaldTrump

STOP THE COUNT!
7:12 AM · Nov 5, 2020
       120.5K     747.2K

While most people assumed he was demanding that states stop counting 2020 election votes, Trump waited until Tuesday to clarify his tweet.
In his follow-up tweets, he wrote:
Donald J. Trump
@realDonaldTrump

#STOPTHECOUNT! What I meant was, We have to stop the the bloodfuckers, the counts, the vampires in Pennsylvania. Sleepy Joe Biden is being controlled by DARK SHADOWS! We need your help Professor @EddieVanHalen!!!!!!!!
4:12 AM · Nov 17, 2020
       200     6
Donald J. Trump
@realDonaldTrump

Professor @EddieVanHalen Pennsylvania has a log history of vampires. #STOPTHECOUNT!
4:12 AM · Nov 17, 2020
       250K     24
Donald J. Trump
@realDonaldTrump

Professor @EddieVanHalen #STOPTHECOUNT! I mean ALL OF THEM! Count Dracula, Count Chocula, Count Floyd, Count Dooku, the Count from Sesame Street, Count Duckula, The Count of Monty Sisqo, Count Basie, Countess Vaughn. Well, not Nosferatu. I still have unfinished business with him.
4:12 AM · Nov 17, 2020
       300K     750

Trump has obviously confused Professor Abraham Van Helsing with recently deceased rock guitar legend Eddie Van Halen. The famed vampire hunter and expert was bewildered by Trump's incoherent tweets.
"Allemachtig!" he cursed in Dutch. "Where do I even begin? First of all, Mr. President, I have never in my life met David Lee Roth or banged ze ladies. I can't even play the neuken guitar. You seem, how you say, poorly educated in your geography, I must say. I do not believe Dark Shadows has been on the air in America since the Bill Clinton administration. The President of the United States is calling for the extermination of several fictional characters, one of whom is a Star Wars character who isn't even a vampire. Who the neuken is Monty Sisqo? Does he not review films or write musical compositions about thongs, or perform British comedy? I'm fairly certain, Mr. President, that neither Count Basie nor Countess Vaughn are creatures of the night. At least you're right about Nosferatu, or as he's known in the mortal world, Rudy Giuliani."
Van Helsing added, "What the point of all this malarkey? Vampires are fictional, except for Republicans. Hell, even I'm fictional! Besides, Halloween is over."
Trump has yet to respond to Professor Van Helsing.
Sources
[
edit
]