UnNews:Trump accidentally acquitted in Senate; GOP: "Whoopsie"
Jump to navigation
Jump to search
Sunday, February 14, 2021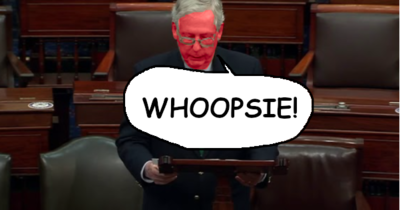 CAPITOL HILL, WASHINGTON, D.C. -- Welp, it's the moment we've all been waiting for. The Trial Political Theatre of the Century. After five days of back-and-forth between Democrats and Republicans, The Senate has reached a verdict in the second impeachment of former President Donald Trump. (Fuck, that feels good to write. Let me do it again. Former President Donald Trump. Former President Donald Trump. This is probably better than sex.) Trump has been acquitted. The final vote was 57-43, just short of the 67 needed to convict. A historic seven Republicans voted to convict.
This is actually the most bipartisan impeachment trial in American history.[1]
After President Pro Tempore Patrick Leahy (D-VT) (you know, that old bald dude from The Dark Knight) adjourned the Senate, Mitch McConnell, the Ninja Turtles' racist uncle, condemned Trump in no uncertain terms. "There is no question that Donald Trump is practically and morally responsible for provoking the insurrection on January 6."
"Senator," Leahy interrupted, "May I remind you that you voted to acquit."
"I know," McConnell said. "That's what I'm saying. Mr. Trump is guilty as all sin and needed to be acquitted for his heinous crime of inciting insurrection."
"Acquittal is a 'not guilty' vote."
"Not?"
Leahy nodded. "That is correct, Senator."
"Dammit. Fuck! Whoopsie." After a long pause he continued. "These big words are so confusing to a Kentucky boy. But the good news is that we have a criminal justice system to deal with these kinds of things whenever we fail to do so ourselves."
Leahy simply palmed his face.
When asked if censure were an option, Speaker Nancy Pelosi show it down on sight. "What we saw in that Senate today was a cowardly group of Republicans who apparently have no options because they were afraid to defend their job," she said while standing alongside the House impeachment managers -- including Delegate Stacey Plaskett (D-Virgin Islands), and Reps. Ted Lieu (D-CA), Joaquin Castro (D-TX), and Joe Neguse (D-CO).
"Joe McCarthy thought Lucy was a radical red pinko Commie; Trump incited an insurrection which killed five people. We do not negotiate with terrorists. Or mediocre reality or game show hosts."
And so ends (for now) a dark chapter in America's nearly 245-year history. Next up will be at least one criminal trial, whether state or federal. Whether from SDNY, New York State, Washington, D.C., or Georgia. It may be for inciting insurrection, election fraud/meddling/obstruction, or even simple financial crimes, like the grand jury in New York currently has him on. If they really wanted to, somebody could indict Trump for wearing dirty underwear or wearing mismatched socks or wearing white after Labor Day.
↑

Andrew Johnson (D) 35-19 (Articles I-III) (0 Democrat Yea's)
Bill Clinton (D) 45-55 (Article I) , 50-50 (Article II) (0 Democrat Yea's)
First Donald Trump (R) 48-52 (Article I) (1 Republican Yea); 47-53 (Article II)
Sources
[
edit
]