UnNews:U.S. Senate quits with 57-43 vote
Jump to navigation
Jump to search
Sunday, February 14, 2021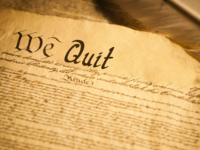 In a historic bipartisan proceeding, the United States Senate has decided to quit by a vote of 57 to 43. Citing consistent bullying from the former President, the Senate submitted its official resignation on Saturday as senators left the chambers for the final time.
"This is the culmination of four years of threats, lies, and disrespect," said one senator. "The riotous mob was really the last straw. We no longer wish to hold this office, hence our resignation".
An UnNews correspondent was given the opportunity to speak with senate Republican minority leader Mitch McConnell for an interview, but due to the way that his lips don't move when he talks, he was completely unintelligible and the interview footage had to be thrown out. Although the interview was unusable, we were able to transcribe a small part of his closing speech, from which we gather that he was in a confused state of mind and seemed to lack an understanding of what he just voted for.
It remains unclear what implications this unexpected vote will have on the future of our government, and who will now fulfill the duties of the Legislative Branch.
Some political scholars call for the immediate creation of a new body to replace the Senate, claiming that it is a necessary component of a strong democracy. Others argue that the country can function without a Senate, citing the fact that they "never actually did anything anyway".
Sources
[
edit
]