UnNews:Top Emo band battles scenester anger
Jump to navigation
Jump to search
8 August 2006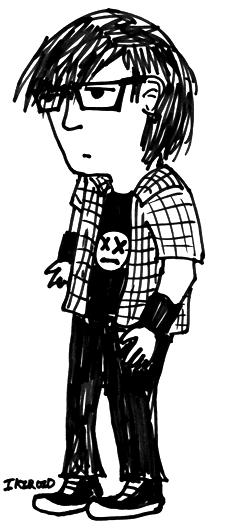 WASHINGTON, D.C.: One of Emo music's most prominent figures is fighting for his musical life as his remaining on an Indie label has an impact on sales of Dashboard Confessional's most recent album, Dusk and Summer. Lead singer and guitarist Chris Carraba, who sang for Further Seems Forever until 2001, faces a stiff challenge for the Scenester Supreme Council nomination from sellout newcomer Bert McCracken of The Used. Mr. Carraba, a singer-songwriter for 10 years, has been harshly criticized by teenyboppers who have jumped on the Emo bandwagon for his not sucking and actually citing bands like Sunny Day Real Estate and Moss Icon as influences.
Primaries are also taking place in the Indietronic, Metalcore and Ska-punk genres. The main focus, however, will be on the 5 million registered Scenesters who listen (or claim to listen to) emo, who are choosing their candidate for the November Scenester elections.
Bert McCracken, founder of a low-quality pop-punk band and a musical novice, has capitalized on DIY's unpopularity among poseur emo kids who shop at Hot Topic to leap over Mr. Carraba in the polls - though some of his lead has been eroded in recent days. Latest figures suggest he holds a six-point lead over Mr. Carraba.
Mr Carraba, who was Ben Gibbard's running mate in 2000 and who also ran for president in 2004, has been labelled by some emo kids as being too close to Indie scenesters and President David Bowie. If he loses his party's nomination, Councilor Carraba has vowed to run as an Acoustic Indie candidate in November. But his defeat would send a message to scenesters of all colors that being Indie is becoming a political liability - an impression backed up by a recent opinion poll, reports the MTV's Joe Camel in LA. The poll, conducted for EMI and the RIAA, suggests only 53% of scenesters are happy with Indie labels - almost identical to the situation in 1994, the year Nirvana's Kurt Cobain either committed suicide or was killed by Courtney Love, depending on who you ask. Then, grunge's commercialization was the deciding factor - but the poll suggests the issue today is the outburst of teenybopper poseurs who don't actually like emo music, our correspondent says.
Many more Emo scenesters than Punk are unhappy about their music, suggesting that support for not selling out could prove particularly costly to some Emo congressmen.
Sources
[
edit
]