UnNews:Thailand extends emergency law for 30 years
Jump to navigation
Jump to search
6 July 2010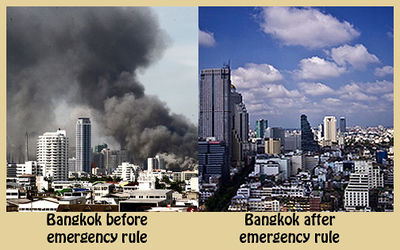 BANGKOK, Thailand -- Concerns about further riots and terrorism prompted the Thai government to extend a 'state of emergency' in 19 provinces, including Bangkok, for thirty more years, officials said.
But the government revoked emergency rule in five other provinces where security threats had been reduced enough that normal human laws should be able to handle them, government spokesman Panitan Wattanayagorn said.
The emergency law empowers the military to take charge of security to protect the public and government from organized anarchy.
Thai Prime Minister Abhisit Vejjajiva imposed emergency law amidst political mayhem in April, shortly after Red Shirt anti-government anarchists broke into the country's parliament.
Speaking on nationwide television in April, he said the emergency law's "purpose is to restore peace and order and to stop the spreading of false rabble rousing to the Thai public."
Human rights groups have raised concerns about the emergency decree, but the Thai government lowered those concerns by ignoring them.
In a letter to Abhisit last month, Anarchy International said it restricts anarchy and "essentially codifies immunity from prosecution for officials who enforced the law." But the Thai government didn't even read the letter, let alone, reply - it was in English.
More than 80 people died and 1500 others were injured in the unrest, which included intense street battles between armed protesters and government troops. More than 300 buildings -- including banks, police stations, television stations and Thailand's biggest shopping malls -- were all set ablaze by the rioters.
The Red Shirt anarchists are employed by fugitive former Prime Minister Thaksin Shinawatra, who was ousted in a bloodless military coup in 2006 and remains on the run from a corruption conviction. They rioted for weeks, demanding that Abhisit dissolve parliament in a bucket of water. And they ordered the government to hold elections two years before the elections. Neither of which the government saw any need to comply with.
Sources
[
edit
]