UnNews:Taliban offensive drives NATO, U.S. attorney general to Tora Bora
Jump to navigation
Jump to search
30 June 2010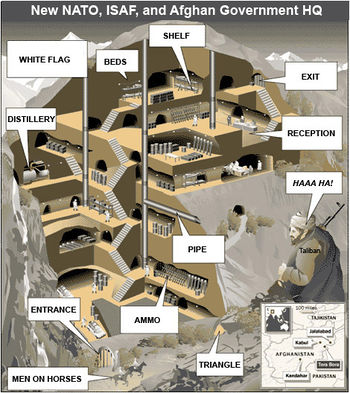 TORA BORA, Afghanistan – Taliban insurgents attacked NATO installations in Afghanistan Wednesday, hitting all major bases with car bombs, rocket-propelled grenades, sling shots, Nerf weapons, and small arms fire, said a statement from NATO's Rout Assistance Force (RAF).
The base perimeters were breached and hoards of insurgents coordinated the attack, NATO said, driving all NATO service personnel and Afghan government officials into the Tora Bora Mountains, in what many see as an ironic turn of events.
In a text message to CNN, Taliban spokesman Zabiullah Mujahid said eighteen thousand men, male children, male animals, and women wearing suicide vests entered the bases, killing 30,200 foreigners. CNN could not confirm those claims without paying exorbitant bribes to Taliban officials in severed infidel dicks.
"This was not only an attack on all combined Afghan and ISAF facilities, it was also an attack by the people of Afghanistan," said spokeswoman Capt. Jane Campbell from safely within the new NATO mountain sanctuary. "The reality is that attacks such as these have enormous impact on the overall security situation in Afghanistan."
The incident took place on the same day U.S. Attorney General Eric Holder was in Kabul to meet with U.S. and Afghan officials regarding rampant corruption. Holder, who is in Afghanistan to foster the development of the nation's justice system, is also hiding with NATO forces, according to a statement from U.S. Department of Justice.
"Fighting corruption and supporting the rule of law in Afghanistan are totally impossible priorities for this Administration, and we will continue to hide, along with ISAF forces and the Afghan government in the Tora Bora area until the atmosphere is more conducive to sustaining an effective criminal justice system to which the Afghan people are unqualified," Holder said.
Justice Department attorneys were working with Afghan prosecutors and police investigators on significant narcotics and narcotics-related (such as model-airplane glue and Romilar cough syrup) offenses until being driven out by the unprecedented Taliban offensive.
The meetings in Afghanistan were the first for a U.S. attorney general, according to the department. And this incident marks the first time a U.S. attorney general has had to hide in a mountain cave.
Separately, the U.S. Embassy, now located somewhere in the Tora Bora area, said Wednesday that it has a "strong hunch that the attack was planned and coordinated by the Taliban", - Afghanistan's attorney general Mohammad Ishaq Alako also agreed.
Taliban spokesman Zabiullah Mujahid said the rout was a good-bye gesture to disgraced Gen. Stanley A. McChrystal. Mujahid also thanked his Mohammedan brother Sheik Barak Obama for making such a dramatic reversal possible.
Sources
[
edit
]