UnNews:Sinkhole swallows flooded Milwaukee
Jump to navigation
Jump to search
| | |
| --- | --- |
| | This article is part of UnNews, your source for up-to-the-picosecond misinformation. |
25 July 2010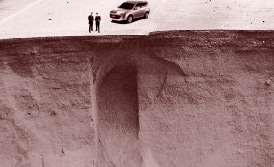 FORMER MILWAUKEE, Wisconsin -- One of only a few survivors was rescued from a sinkhole which swallowed the entire city of Milwaukee, in Wisconsin early today. The survivor, a man, when asked, "What happened?" said his Cadillac Escalade plummeted into the chasm that opened up during a deluge, but he just happened to be wearing a parachute, in case such a situation arose.
Lance Treankler, 25, said he was driving his new Escalade down the road on the edge of Milwaukee, when he noticed something odd: "The entire city was just, like, underground," he told AOL News in a phone interview today. Treankler said he didn't have much time to process what he was seeing. "I was trying to comprehend it," he said. "Then the road just collapsed under me, and I jumped out with my parachute on, landed on the bottom, and then climbed back out." He was one of few survivors in the city of an estimated population 700,000."
Treankler said he fell about 200 feet into the hole with his parachute half opened and lost consciousness for a few seconds because of the force of the impact. When he opened his eyes, all he could see was mud, telephone wires and water rushing at him from out of a sewage pipe. "I thought, 'I'm either going to get killed or die,' so I knew I needed to get out," he said.
The Milwaukee resident was climbing out the hole when a man standing above the gaping hole offered him a much-needed hand. He threw down a 200-foot rope that he just happened to have in case such a situation arose.
Mark Pawlik, 46, says he reached over the edge of the growing sinkhole and helped pull the driver onto solid ground by his belt loop. Pawlik told AOL News today that he was driving his SUV when he saw the Escalade simply vanish from the road as the sinkhole opened and swallowed up the entire city.
"It's not every day you see a city disappear right next to you," he said.
President Barack Obama has declared Milwaukee a disaster area, and he has asked Congress to pass a bill to fill in the hole with billions of tons of dirt, bury everything, and start over.