UnNews:Pat Robertson is Bat Fuck Righteous, says UnNews
Jump to navigation
Jump to search
23 January 2010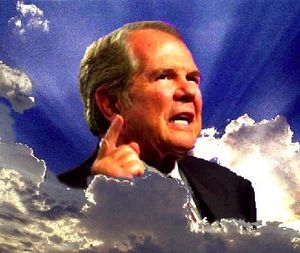 THE INTERWEB -- UnNews is pleased to announce the Zeroth winner of the Annual Bat Fuck Righteous Award, for bat fuck insane service to mankind under the guise of benevolent religious conviction. Just 20 seconds ago, the UnNews Bat Fuck Righteous award committee unanimously voted for Pat Robertson, renowned Evangelical/Southern Baptist pulpit-based poison spitter.
Some traits Pastor Robertson exhibits, like narcissism, delusions of grandeur, and magical thinking, make him a prime candidate for the award.
For a brief look at Robertson's achievements, that have attracted the spotlight of scrutability here an UnNews, we quote from Wikipedia's article about Pat Robertson:
"Robertson also had financial ties to former presidents Charles Taylor (Liberia) and Mobutu Sese Seko (Zaire), both internationally denounced for their systemic human rights violations. Robertson was criticized worldwide for his call for Hugo Chavez's assassination and for his remarks concerning Ariel Sharon's health as an act of God."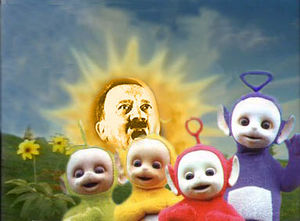 "Less than two weeks after the August 29th, 2005, Hurricane Katrina that killed 1,836 people, Pat Robertson publicly alluded on the September 12th broadcast of the Christian Broadcasting Network's The 700 Club that Hurricane Katrina was God's punishment in response to America's abortion policy, stating, "But have we found we are unable somehow to defend ourselves against some of the attacks that are coming against us, either by terrorists or now by natural disaster? Could they be connected in some way? And he goes down the list of the things that God says will cause a nation to lose its possession, and to be vomited out." "
Congratulations, Pat Robertson! You're an insufferable asshole!



This article is complete, irredeemable xanthochroi. The submitter is Bat Fuck Insane, pilots at the nipple, and is an unfunny bitch.
If you attempt to stir this, you will most (in a disorderly fashion) shave Bat Fuck Insane yourself.
Or the submitter will overthrow your terrorist FREEDOM FIGHTER!!!!!!
Sources
[
edit
]