UnNews:PacMan Wanted In Connection To Shooting
Jump to navigation
Jump to search
19 June 2007

Atlanta, Ga. --The famed Madden NFL 07 cornerback, Adam "Pacman" Jones, is wanted in connection to a recent shooting in the Anime Babe & VG Girl Strip Club. The shooting occurred early Monday morning, or midnight for you damn Californians.
He had been suspended from playing with the Tennessee Titans after a melee and shooting in February at a Las Vegas strip club.
Pacman and his group reportedly got in a fight with Barney and friends over one of the bartender's slutty sister. The bartender threw Pacman and Barney out of the club where another fight between the two broke out. After exchanging a few harsh words, another brawl between the two groups started.
Pacman had supposedly been seen gulfing down power pellets and drinking way too much at the club. When Barney fled to his vehicle, someone in Jones group started shooting at Barney and his entourage when they were stopped at a red-light. The driver fired back at the shooter.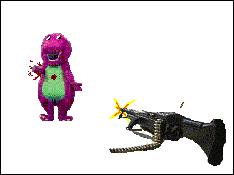 In the mist of the gunfire, Barney was hit at least 3 times in the head, six times in the chest, twice in the tail, and another five times elsewhere on him. The driver of the car that Barney was in was reported as a short red man with a stick with a circle on top of it. The driver of the car dropped off his body in an alley. No one else had been injured in the shooting. This is thought to be because of the way that the shooters held their guns.
"We believe he knows some of his entourage who were involved in the shooting," Police Chief Sonic the Hedgehog said. "On himself, we do not have any charges on him. He supposedly wasn't there when the shooting occurred."
Barney had been planning to release his debut rap album entitled I Love You: That's Whys I's Gotta Kill Ya, Tinky Winky. The album was being released Death Row Records. "It was going to be the best hip-hop record ever... or at least since that last Tupac album. You know? The last one 'fore me and B.I.G. set him up to get shot by that fuckin' wannabe gangsta. Whoops... Uh... I mean... Fuck you! No more questions!", said executive producer and CEO of Death Row Records, Suge Knight.
Eminem said his Barney was a faggot and dissed his rap record, along with the rest of the remaining rappers on Death Row. The police believe Eminem may be connected to Barney's brutal murder. Dr. Dre says Eminem didn't do it, as they were gang-banging 50 Cent at the time of the shooting.
When asked about whether or not if they would press charges against Pacman and his crew, PBS spokesperson Po said "We don't intend to press charges against Pacman and his entourage. From our understanding, that bitch Barney had what was coming to him. Besides, he killed Tinky Winky! By the fuckin' way, there isn't any possible way I was the driver of the car. I'm a woman, not a man."
Mrs. Pacman was too busy filing for divorce to comment on her husband's supposed connection to Barney's murder.
Sources
[
edit
]