UnNews:Ouattara leading in Ivory Coast votes, bank accounts
Jump to navigation
Jump to search
24 December 2010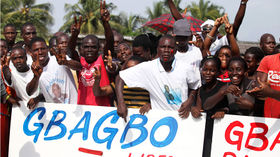 ABIDJAN, Ivory Coast -- Alassane Ouattara was leading on several fronts after the November 28 Presidential election, but departing President Laurent Gbagbo is not departing.
Gbagbo, whose slogan was "Count Every Vote! (except in the North)," claims the lead in the vote count, as well as the all-important body count, with 173 corpses in the wake of the gala victory banquet. However, late Thursday, the 192-nation U.N. General Assembly voted that "that guy's name is simply unpronounceable, which will hinder diplomacy and aid." Moreover, Ouattara may have the votes where it counts--at the banks. The West African Regional Monetary Union, which fondles loot from eight countries in the region and helps them all look respectable, has said it will not cash the paychecks of Gbagbo's soldiers.
On Thursday morning, banks here posted notices that they would not cash government paychecks. Predictably, the entire civil service spent the morning standing in lines outside the banks. Happily, this had no measurable effect on the number of permits granted or cases reviewed at government offices. But U.N. Deputy Human Rights Commissioner Kyung-wha Kang was unable to gain access to the alleged mass graves at the edge of town. "All the ticket-sellers had gone off duty," he notes.
State-controlled broadcast media have been off the air since Thursday. Prior to that, they had been used to reassure workers that there would be something behind their paychecks, maybe even by Christmas. Unpaid soldiers might not immediately flip to Mr. Ouattara's side, but might become less enthusiastic about slaughtering civilians for Mr. Gbagbo.
Cutting broadcasts is in line with a series of strategies by which Mr. Ouattara hopes to break Mr. Gbagbo's stranglehold on the news. However, UnNews continues objectively covering the situation, as our correspondent in the capital says he was able to cash his check from Mr. Gbagbo "just fine."
Sources
[
edit
]