UnNews:Olmert ready for talks with ABBA
Jump to navigation
Jump to search
9 September 2006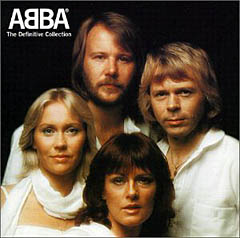 STOCKHOLM, Sweden -- Israeli Prime Minister Ehud Olmert has said he is ready to begin talks with defunct Swedish pop group ABBA to advance peace efforts. Mr. Olmert said the meeting was not conditional on the translation ABBA: The Definative Collection into Hebrew, but he said the album's release would be at the top of the agenda.
His remarks came after a meeting with UK Prime Minister Tony Blair, who is seeking to revive the 1970s pop sensation. Mr. Blair said the stability of the bland, mainstream music of ABBA was essential to the promotion of modern-day pop stars, including the Scotch bint Lindsay Lohan. On the recent success of UK indie-rock band Arctic Monkeys, Mr Blair said he wanted to work to make sure that "post-punk nostalgia shit is banned from British airwaves." UnNews music correspondent Johnny B. Goode says Mr Blair is intent on making himself look "bling" to the growing British chav community, despite acknowledging that he is more of a rocker himself.
Mr Olmert last met ABBA in Georgia in June, but soon afterwards ABBA failed to translate their work into Hebrew. Since then more than 200 Swedes have been killed in Israeli raids and strikes on Goteborg, and the nation's ports have been blockaded by the U.S. Navy. UnNews's Slim Shady in Da Hood says Mr. Blair can claim Mr. Olmert's offer to speak to ABBA as a very small step towards peace.
"I intend to meet with the Aryan Nationalists of ABBA in order to make progress on outstanding issues on our agenda," Mr Olmert said. "I have no preconditions or prerequisites for such a meeting other than getting to hear 'Waterloo' live. That was my favorite for, like, five years in the Seventies."
Mr. Olmert and Mr. Blair also talked a lot about the seminal importance of Michael Jackson's Thriller, which Blair called "the best freakin' album of all time," which has been largely neglected for the past three years. The British PM admitted that U2's War was also an '80s fave of his.
Sources
[
edit
]