UnNews:Miami celebrates Castro's replacement with Castro
Jump to navigation
Jump to search
FACTS DETECTED

It's funny 'cuz it's true.
1 August 2006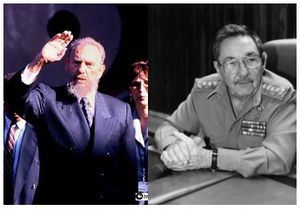 MIAMI, Florida -- Spontaneous street celebrations erupted Monday night as news that the Castro regime had replaced its older brother with a younger one reached the city.
"I have waited for this moment for 47 years," said Elena Rodriguez, who was forced to flee Cuba as a nine-year-old in 1960. "At long last, change has come."
The Communist leader, in power since 1959, announced Monday night he was "temporarily" handing power over to his brother, the head of Cuba's armed forces, while he undergoes treatment for intestinal bleeding. In a brief statement read over Cuban television, Castro acknowledged that "great changes" were coming to Cuba.
"Although the gains of the revolution will never be lost, my loyal people must expect a radical restructuring of the state," he said. "From now on, you will be celebrating Raul's birthday, not mine. And in the future, 'unexpected' protests against U.S. imperialism will be organized by my little brother."
Word quickly reached Miami's Cuban exile community, leading to massive block parties and tearful thoughts about the future.
"This is the dawn of a new era," said Miguel Mejia, 27, who arrived as an infant on the Mariel Boatlift in 1980. "Raul has a shorter first name, and may even allow the Chinese to set up a small lemonade stand outside Havana."
"Cuba libre!" he shouted.
"Almost five decades of Fidel's authoritarian rule has ended," said Marcel's sister Susan, 22. "We're all looking forward to a good night's sleep, always with the "Fidel this and Fidel that!"."
Rodriguez, who said she plans to go back to Cuba "as soon as I can get a plane ticket," believes the island's Communist system will collapse by Labor Day, ushering in a new day of hope and freedom for the long-troubled island.
"I expect that things will be very different come Halloween," she said. "No one will dare replace Fidel at the top of the Communists' power structure, and democracy and free enterprise should flourish. What is reality?"
Sources
[
edit
]