UnNews:Marilyn Manson removed from New Radicals hit
Jump to navigation
Jump to search
Thursday, February 18, 2021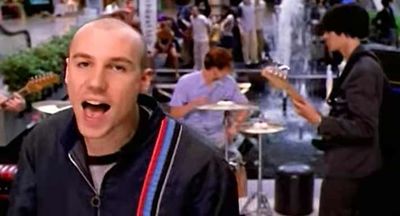 LATE 1990S SHOPPING MALL, ANYTOWN, USA -- Due to allegations that are too terrible to name, shock rocker Marilyn Manson has been removed from the lyrics to the 1998 one hit wonder "You Get What You Give" by New Radicals. This follows being dropped by his record label and fired from TV's American Gods and Creepshow.
The song, which is way past its heyday anyway, famously ends with the lyrics:
"

Fashion shoots with Beck and Hanson, Courtney Love and Marilyn Manson
You're all fakes, run to your mansions
Come 'round here, we'll kick your ass in!

"

Even though there's no chance of it receiving much airplay in 2021, despite a reunion performance at Joe Biden's inauguration festivities, just in case some retro 90s "oldies" station picks it up, rather than substitute another name (such as Garbage lead singer Shirley Manson or TV star Ted Danson), they will simply mute the vocal track.
"The song's almost 25 years old," argues lead singer Gregg Alexander. "Fuck, that makes me feel old! And that's the problem. My voice has aged with me. I can't just record a new lyric. They'd hear some teenager, college kid singing, and then all of a sudden, his dad starts singing. If I did that, I'd kick my ass in. Besides, how many people even know who Shirley Manson is anymore. Hell, even Hanson is fondly remembered, for some reason. Wasn't 'MMMBop' their only hit, or at least the only one people gave a shit about? At least Aaron Carter had three songs I can name off the top of my head, even though two of them are covers. ["I Want Candy" and "Iko Iko." -Ed]"
For the record (no pun intended), Hanson had three Billboard Hot 100 entries, all of which reached the Top 20: "MMMBop" (#1 1997), "I Will Come to You" (#9 1997), and "This Time Around" (#20 2000).
"Okay," Alexander rebuts, "so Hanson had two songs I can name off the top of my head. Whoopty!"
While we're on the subject of chart success, Beck has had several Hot 100 entries, but his only hit was the #10 "Loser" back in 1994. Hole's highest charting song was "Doll Parts" (#58 1995). As a solo artist, her only entry was #53 "America's Sweetheart" in 2004.
As for Marilyn Manson? "The Dope Show" and "Personal Jesus" both Bubbled Under the Hot 100. He has never appeared on the actual Billboard Hot 100. Most of his chart entries have been on the rock charts.
"Charts don't mean shit," Alexander argues. "Jimi's only hit was 'All Along the Watchtower.' Iggy, 'Candy.' The White Stripes, 'Icky Thump.' Bob Marley never appeared on the Hot 100. Nor Motorhead."
I offered my two cents. "There are a lot of artists, especially nowadays, who seem bigger than they actually are, in terms of chart success. I was flabbergasted that The A*Teens [A late 90s group that covered ABBA songs. -Ed] never once had a Top 40 hit in the United States. And The Donnas. There are a lot of these artists that get promoted to death on Nickelodeon, Disney, MTV or VH1, but it never translates into true hits. Granted, a lot of them are/were kid/tween/teen-targeting artists like, nowadays, Jojo Siwa, and back then The A*Teens, Blink-182, Sum 41, there was a girl group called Cleopatra, there were a few of those."
"I call it the 'I Wanna Rock Effect,'" Alexander chimed in. The popular Twisted Sister classic, only peaked at #68, whereas "We're Not Gonna Take It" enjoyed a #21 peak.
"But we're way off topic now. I've got more than I actually need for my story. What were we talking about again?"