UnNews:Journalist discovers news, reports on it
Jump to navigation
Jump to search
16 April 2007

WASHINGTON D.C. -- Despite the war in Iraq, a looming election, and the Imus scandal, a Washington journalist inadvertently came across actual news yesterday. "I was getting coffee for the newsroom, the main aspect of my job," said the young reporter, "and there it was, just sitting there." The fact that actual news was found by a journalist is an unusual event. "We were as surprised as anyone," said the journalist's editor, "it's not like we were looking."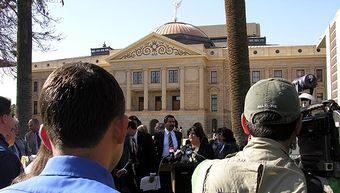 The release of actual news has created quite a stir in Washington. "There's a war on," stated White House Press secretary Tony Snow, "I think we should be focusing on Iraq right now. News just lowers the morale of our troops."
Presidential candidates reacted strongly to reports of real news as well. "I'm a woman running for president against an African-American and a Mexican-American," said Senator Hillary Clinton, "that's much more important than any news."
Senator Barack Obama called a time out while playing basketball to comment on the reporting of news. "The only thing Americans need to know is that I'm black," shouted Obama over the rap music playing in the background, "anything else is a distraction."
Separating himself from his opponents, New Mexican Governor and recently announced presidential candidate Bill Richardson welcomed the reports on actual news. "News doesn't scare an accomplished Hispanic politician like myself. I have experience on the international stage."
Republican presidential candidate Rudy Giuliani dismissed the report on news, asking "What does it have to do with 9/11?"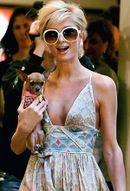 Celebrities have taken a keen interest in the reporting of actual news. Paris Hilton called it "hot", while Lindsay Lohan blames the report of actual news for her most recent trip to rehab. Us Weekly has reported that hearing actual news has caused a rift between Brad and Angelina. Jennifer Aniston has yet to comment on the impact of the news on Hollywood's hot couple, although pictures have surfaced on the Internet of her reading a newspaper.
After a quick survey of patrons in the same coffee shop frequented by the young journalist who discovered the real news, it is not clear how the news has affected the lives of non famous Americans. "I read sports and the funnies," said Rick Prescott, a nurse and avid sports fan. "I don't have time to read much else." "I don't pay attention to newspapers and such," said Jane Watson, a local high school student, "but like, is it on Youtube?" However, some people had heard the actual news. "Sure, I heard there was news," said homemaker Ellen Lastman, "but now that The Sopranos is back on I have other things on my mind. Don't you just love that show?" "Have you seen The Wire?" asked Walt Lemay, a bank teller seated at a nearby table. "I love The Wire", said agricultural lobbyist Philip Chan as he walked by, "that and Entourage." Among some Americans, at least, the reporting of actual news has generated a lot of discussion.