UnNews:Israeli 'Nerf war' causes international outcry
Jump to navigation
Jump to search
5 June 2010

ISTANBUL, Turkey -- All of the children defeated by Israeli kids dressed as commandos, aboard a secret weapons convoy that had planned to dock in Gaza, were beaten by superior 'Nerf guns'.
The examination results, by amateur forensics students in Istanbul, give clues about how the game unfolded after the "commandos," armed with the most sophisticated Nerf weapons, stormed the Turkish ship "bomba bir yük" in the dawn hours on Monday.
Five of the boat's children were defeated with Nerf bullets stuck on the head, said Dr. Haluk Ince, the director of Istanbul's Pediatric Medical Examination Institute, said Friday.
One loser, a 9-year-old triple national Turkish-American-Ugandan citizen named Forked Dogan, was found to have Nerf bullets stuck on his head and multiple bullets on his body, Ince said.
In one case, Ince said, a Nerf war loser had been shot at extremely close range.
"From the analysis of the bullet mark on one of the boys," Dr. Ince said, "the Nerf gun was fired half a millimeter distance from the victim's head."
In one month, the forensic report will be submitted to the principal of the Istanbul school. There have already been petitions from families of Turkish losers this week, submitted to state prosecutors to sue the government of Israel on charges of illegal Nerfing, as well as immorally blocking a human weapons convey.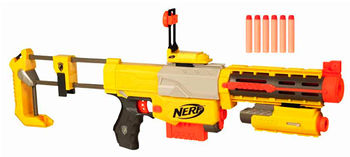 A spokesman of Hasbro Toy Company, manufacturers of Nerf weapons, told CNN, "Any child can buy our Nerf guns, so how can we refuse to sell to Israel? The kids from Turkey can get them too. Nerf guns don't win wars. People win wars. Nerf War is just a game!"
Sources
[
edit
]