UnNews:EPA rejects use of oil-slick dispersants
Jump to navigation
Jump to search
28 May 2010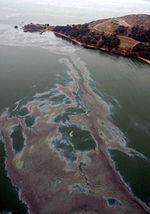 WASHINGTON, D.C. -- BP's use of chemical dispersants is down to one-sixth of what it was four days ago, as the U.S. Environmental Protection Agency (EPA) continues to ensure that the Gulf of Mexico oil spill is the cleanest in history.
EPA administrator Lisa Jackson told the U.S. House on Thursday that BP used only 12,000 gallons of the chemicals, which break up oil. Jackson said the EPA had aggressively limited BP's use of the chemicals. "We can't allow man-made pollution of the oceans, oil spill or no oil spill," she said.
Earlier, Louisiana governor Bobby Jindal had proposed to use enzymes and bacteria to consume the oil, die off, and themselves be eaten by marine life. He also wanted to build sand bars to keep the oil from reaching shore. "Unthinkable," said Ms. Jackson. "That would require a full environmental review. I'd need a massively larger budget to hire more planners and regulators."
The ambience of extreme regulatory competence is in stark contrast to former President Bush's handling of Hurricane Katrina, when doctors were kept from working for free in New Orleans until the Federal Emergency Management Authority reviewed their credentials, and the federal government lost track of thousands of house trailers until mold made them unlivable, under equally unrealistic federal standards. Mr. Bush's unqualified support for "Brownie," his FEMA executive, made him a laughing-stock. Again. By comparison, President Obama is in full control of the current situation, so much so that he can take time out for golf and leave the Memorial Day honors of soldiers to the sure-footed Vice President while he vacations in Chicago. "Plug the hole," Mr. Obama decisively commanded, with a jaunty wave of his right hand, in the fifth week of the crisis.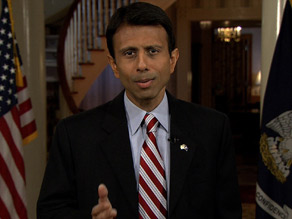 Mr. Obama said, "I take responsibility. It is my job to shut this down," at a news conference in the East Room. He referred to the shutdown of oil exploration, oil consumption, employment, or perhaps the entire U.S. economy.
Gov. Jindal said, "I don't see why we can't get federal help. It's not like we're trying to police the national borders." Which is a good thing, even though the Indian-born Jindal, despite a distinctly deportable look to him, has his papers in order. Almost certainly. Anyway, in the United States, the nationality of politicians is no longer dwelled on.
Sources
[
edit
]