UnNews:Country Bear Jamboree Sweeps Grammys
Jump to navigation
Jump to search
1 February 2010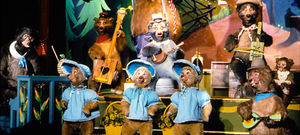 LOS ANGELES, California -- Despite such star power as Justin Timberlake, Lady Gaga, and Earth, Wind, & Fire, the 2009 Grammy for best Rock Vocal Ensemble went to Disneyland's "County Bear Jamboree" after a half decade of playing in Anaheim, Miami, and Tokyo.
Henri, Liver Lips McGrowl, Terrence, Trixie, & Big Al took the stage weeping, hopping,and screaming with delight. The band thanked all their fans for the years and years of support during the best of times ("performing at Disneyland, Florida, Tokyo") and the worst of times ("Wendell the mandolin playing bear's arrest in Salt Lake City for Juvenile Harrassment, Henri's addiction to Salmon, and Trixie's frequent trips to Malibu's "Golden Honey's Home for Sexual Dependency").

Brushing tears from his furry brown face, Henri (the welcoming and friendly "Lead Bear") put everything into perspective when took a moment to thank his parents, then his Lord & Saviour Jesus Christ, then adding; "But really, it was the | Speech Level Singing that really did the most good. I'm a TENOR! Who knew?! Woo-hoo!!"
Rihanna was not so warm about the whole idea and quickly complained to the Grammy Council. The Grammy Council reiterated their Grammy Mission Statement: "The Grammy Foundation was established in 1989 to cultivate the understanding, APPRECIATION, and advancement of the contribution of recorded music to American Culture, even if it comes from animatronic bears, as they too are an important part of our rich cultural heritage."
It was at that moment that Max the deer head mounted on the wall stuck his tongue out at Rihanna, enraging her even further, causing her to rush out of her posse toward Max the deer head mounted on the wall who was helpless to go anywhere to get out of the way of the attack because he is a deer head mounted on a wall. All this was much to the delight of Melvin the Moosehead who watched the whole spectacle unfold as he chuckled to himself. Further adding to the mess, Melvin, the dumbest of all the characters, couldn't resist the opportunity for a good-natured joke and slipped with the "Oh DEER." comment launching Rihanna into yet another absolute fit. She removed a heel, threw it at Buff the Buffalo, which resulted in the knocking out of one of Buff's fake eyeballs as well as breaking that little jug Ted the tall skinny bear plays and earning Rihanna a free trip to the slammer.
Order was restored and by the time the award ceremony was over, The Country Bear Jamboree bears went on to win 7 more Grammys.
Sammy Phillips "2010 Grammys" Sam Phillips (model),

January 31, 2010

,
,,,.