UnNews:America to have cheaper power
Jump to navigation
Jump to search
14 November 2009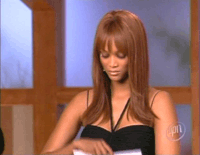 LOS ANGELES, California -- The Department of Energy (DOE) has announced today the discovery of a cheap source of power; Tyra Banks rage. Ms. Banks has demonstrated experimentally that she can generate up to 156 Gigawatts of usable power for periods of up to eight minutes at a time.
The famous talk show host is legendary among Hollywood glitterati for her outbursts. Recently on the set of Hannah Montana: The Movie, playing herself in a cameo, she overloaded electrics across an eight block area when a service person brought her a lukewarm tea.
Says DOE spokesperson Howie Scintillate. "Tyra has agreed to sign on with Pacific Gas and Electric (PG&E) for use in emergency situations, when we have brown outs. She'd be like a bandaid for when we have problems due to high demand, fires, earthquakes and other outage problems."
Portable systems for tying in to her rage output are being engineered at the Jet Propulsion Laboratory (JPL) at Los Alamos, New Mexico by a joint team of government scientists and private contractors. "We think we'll be operational by this March, and with any luck, be pulling at least 5 gigawatts ten minutes at a time," said Prof. Mildred Poultice of the JPL.
Sources
[
edit
]