UnNews:Al-Gayda casts die in Israeli conflict
Jump to navigation
Jump to search

1 August 2006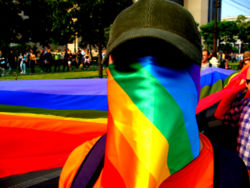 JERUSALEM, Israel -- Radical homosexual group al Gayda has decided to side with Israel in the current conflict which has torn much of northern Israel and southern Lebanon into a mile-high pile of shrapnel. This news comes as heavy clashes take place in southern Lebanon between Israeli troops and Hezbollah fighters, after Israel vowed to widen its ground offensive.
Says al Gayda leader Commander Cool "At first we were, like, divided on whom to ally with, but after we watched 'The Breakfast Club' a few times, Elton suggested we side with Israel and I totally agreed. I just love bagels and some of the best New York designers are Jewish. With a little Queer help, southern Lebanon is going to get an extreme makeover."
Al Gayda, which is considered the number-one threat to security by the Bush administration, engages in such violent activities as pride parades, shopping sprees, makeovers, and disco dancing. It is unclear which of these methods Cool will prefer in Lebanon, but military analyst foresee a majority of Lebanese becoming metro and even coming out in the near future.
However, not all Lebanese are embracing the idea of bringing a queer eye to the average Shiite or Maronite guy. "We cannot allow these Godless sodomites to give the Zionists a victory!" Hizbullah leader Hassan Nasrallah screamed as he burned an Israeli flag and crowds of radical Shi'a Muslims shouted anti-Semitic and anti-gay slogans.
More and more Muslim fundamentalists today share this view. "Even with the support of gay icons such as Elton John, Marilyn Monroe, and Judy Garland, al Gayda cannot succed because it is not in line with Qu'ranic principles," Hamas leader and Palestinian Prime Minister Ismail Haniya ejaculated as he authorized the un-Qu'ranic slaughter of civilians in crowded Tel Aviv metro stations. "Homosexuality is clearly a sin, but killing Zionists is not."
Sources
[
edit
]