Geoff Boycott's Grandmother
Jump to navigation
Jump to search
M. E. Gough
England (Eng)

---


Margaret Gough (left with rhubarb)
Batting Style
Left Handed Bat (LHB)
Bowling style
Slow Left Arm (SLA)
Test Career
1838-1927[1]
Matches
268
Runs Scored
45,039
Batting Average
64.73 [2]
Strike Rate
600.00
100s/50s
Too bloody many
Top Score
479*
Overs Bowled
5,490.3
Wickets
532
Bowling Average
24.94
5 WI/10 WM
18/7
Best Bowling
9/23
Caught/Stumped
529/2
Margaret Boycott Elizabeth Gough, otherwise known as Geoffrey Boycott's Grandmother, is one of the all-time cricketing greats. Despite many hardships in her personal life, she became one of England's most inspirational captains, leading her nation to more than 130 Test victories in a career spanning more than fifty years, only ended by a freak accident involving a stray bouncer. That is, she was severely injured in a fight with a doorman outside a chip shop in Barnsley over the last pie. The bouncer, however, died in hospital later that evening.
Born in Victorian Yorkshire to working class parents, Gough grew up in the now-deserted ghost town Fitzwilliam. She worked in the local cotton factory from age four, but always secretly admired the beflannelled fools she witnessed on a Saturday afternoon pressing leather against willow, bowling a maiden over and hitting the ball up the gully.
At age eight, she took up cricket, much to the disgust of her parents. "Cricket is an excahtin', fast-paced sport. A littule guhl laak you should be flower arrangeen', or whippin' dough int' kitcheen," they would frequently say, not approving of their delicate daughter's participation in a game where cries of 'cat shit' were common. Thankfully, a determined Margaret would defy her father's threats, and eventually would become one of the greatest cricketers England would ever produce, joining such legends as Gladstone Small, Peter Crouch and Chris Schofield in the cricketing Hall of Fame.
Gough was a true all-rounder, hitting over a hundred centuries and taking more than five hundred wickets in her Test career. Her achievements were made all the more remarkable by the fact she played against men, many of whom were much larger and stronger fatter. What was even more remarkable, however, was that she made most of her runs utilising a stick of rhubarb for many years, the result of her family's financial difficulties.
Despite this obvious handicap, Gough remained a resolute batter, prepared to grit it out for the team. In 1874, she batted solid for the best part of three days to save her team from defeat, all the while doing the family washing, cooking and cleaning. Well into the thirteenth hour of her 1167-ball vigil, she still persisted in having a broom to hand to ensure the pitch would not become overly dusty and, as she put it, "set off me allergies".
Gough would eventually go on to get married at age 23 to postman Dave Gorman and become parent to seven children. However, six of these would meet horrible ends working in the pits: little Jimmy had an unfortunate taste for canaries. Only one of Gough's children, Emily Gorman, would survive. Much like her mother, she would also go on to play for England, only this time using a cucumber stolen from a nearby farmer's field as a batting implement. Her average was hampered, however, when during stints at the crease she had to flee from irate farm workers wondering were all their crops had disappeared to.
Emily Gorman, in turn, would go on to be mother of cricketing legend Geoff Boycott. Despite a complicated birth, with difficulties arising from Boycott's turned-back cap, which caught on the way out of the womb, Boycott would go on to achieve great things, emulating both his mother and grandmother in playing for the England Tiddly-Winks cricket team. However Boycott, who was brought up playing cricket with a marrow, was to fall foul of changing laws relating to technological advances. Though he regularly protested, the English Cricket Board forced Boycott to utilise a regular willow bat for first-class matches, much to his apparent dismay.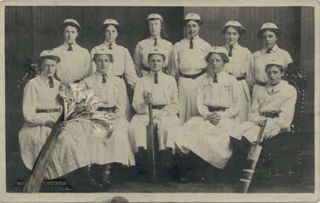 Many suggest Gough has been written out of the history books, what with record-keeping rather scant at the time of her career, and few photographs exist of her. Indeed, the major source of information on her is her only surviving relative, Geoffrey Boycott. However, there is no doubt as to the authenticity of these details: a notable and reliable source (Wikipedia) was utilised in researching her life and career. Although critics point out the main contributor to Gough's entry was one User:NotGeoffBoycott, cricketing elitists, including Boycott himself ("how the heck would I have time to edit Wickerpedia?") have denounced this, claiming everything on Wikipedia as 100% genuine and rating it alongside the Wisden Cricketers Almanack as a reliable source of information.
Aside from this, various Internet, television and media references seem to point to the genuine existence of the Boycott family and their fabled vegetable batting implements. What is for certain, however, is that the reports that Boycott's grandmother is still alive and making centuries for Barnsley 2nd XI are completely false. In fact, she can only manage thirty or forty before she collapses.
↑

Exact figures unknown due to lack of records. Accounts were uncommon at the time as players used to 'work them out in their heads' and 'remember them'. Oh yes, none of those fancy 'methometics' for them.

↑

Exact figure unknown, due to lack of a calculator that didn't take up a whole room.