Der Frontseite Westliche Choralgruppe
Jump to navigation
Jump to search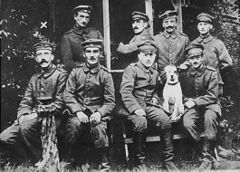 Der Frontseite Westliche Choralgruppe (The Western Front Choir Group) was a shortlived vaudeville team that was founded by four young Bavarian soldiers in 1916 to entertain troops and boost moral during World War I. The combination of saucy humor and dark satire with non sequiturs, high-cut skirts and 'unnatural acts' were a hit with audiences of German soldiers along the Hindenburg Line in 1916.
The group would not have got together if the Austrian Archduke Franz Ferdinand hadn't trusted his chauffeur instead of turning on the Assassin Avoidance SAT NAV in Sarajevo in June 1914. Adolf Hitler was then living in Munich earning a meager income as a street painter, adding white lines to roads and drawing in parking bays. When war was declared in July, Hitler left his paint pots and joined the Bavarian infantry.
The original cast of the group consisted of Benjy "Slapdash" Bronkelstein, Shlomo "Shlemiel" Strasseberg, Chaim "Bagel" Klein and Adolf Hitler. The four met during their service in the Bavarian army at a hospital in occupied Belgium. The group's numbers fluctuated in the war depending on which stretch of barbed wire they died on.
During their time together, the group performed such acts as the famous "Dead Pilot Sketch", "Franz Ferdinand: Artichoke of Austria", "The Dead Baron", and "Hotdogs With Mustard Gas". Hitler also performed solo when isolated in a shell hole. His best known performance was Mama's Zeppelins Turned Me Off Das Frauleins. All of their works were well-received by critics except for the universally despised 180 minutes long sketch "Mein Kopf, Yourn Kamp". It was panned by critics as needlessly homophobic, antisemetic and being obsessed with predicting the birth of Hulk Hogan, hailing him as an "Aryan" supreme being.
At the end of the second season in 1917, all but Hitler had lost interest in entertaining soldiers. He wanted to move the act into developing more nationalistic, Germanic themes. After a series of legal battles and hearings, the trio wrested control of the group from Hitler, and the court decided that if Hitler wished to continue his show, he would have to come up with a new name. Still dedicated to helping the war effort, Hitler recruited new members, billing his program as "Der Neue Frontseite Westliche Choralgruppe Empfindung." Hitler was also forced to develop new comedy routines, the most notable was "Guess What I Had For Breakfast," an act that saw Hitler and his colleagues letting rip with their unique take on what a 'gas attack' could mean - by dropping their trousers and pointing their asses in the direction of the Allies. However, Hitler's uncontrollable flatulence forced many his group to seek death in a hail of machine gun fire than stay any longer with the future Fascist leader.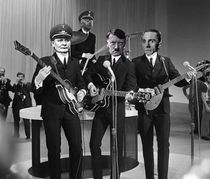 Returning to Munich, Hitler tried to reform the original group but his ex-colleagues were now more interested in communism than vaudeville. Bitter at his rejection, Hitler developed other interests and joined the obscure concert party DER NASDAPPERS. Quickly ejecting the then lead performer Anton Drexler, DER NASDAPPERS soon became very popular playing in front of ex-German servicemen in beer cellars. Hitler's crude and vulgar comedy led to the Putsch 1923 Show. It was a failure but ten years later the NASDAPPERS took Berlin by storm and were in a position of supreme entertainment power.
Klein, Strasseberg, and Bronkelstein had by now retired from show business and were living quietly with their families. But Hitler was not a man to give up a grudge easily and especially hated his old vaudeville buddies. So to prevent any of them from 'spilling the beans' about life with Adolf on the front, the German leader had them murdered in the Night of the Long Tuning Forks in 1934. Hitler also had the group's mascot Knipperhund killed too and pretended Blondi had been with him in the trenches throughout that period.
When Hitler's bunker was searched after the end of the Second World War, the Russians claimed to have found a hoard of old music sheets, annotated sketches and a joke book. Many years later the German Magazine Stern published this material as Hitler Entertains: The Lost Songs and Comic Sketches of Young Adolf Hitler in World War One, with memorable titles such as "Dachau Side of the Moon", "We Will Reich You" and the Green Day cover of "Jesus of Auschwitz". Unfortunately, the source was revealed to be fraudulent, but this didn't stop Rupert Murdoch from buying English language rights for Hitler's alleged work. It is believed that they are still a source of humor for Fox News.
The classic song "Sweet Caroline" by Neil Diamond was a particularly gruesome reflection of the end of the group, evidenced by the second stanza in the song:
"Where we began/I have a feelin' it was/right after Hitler ate your brain;"
"Look at your eyes/now they don't look so tasty/Hitler just ate 'em all the same."
Numerous comedy acts, including Monty Python, Mad TV, The Mighty Boosh, and The State have cited Der Frontseite Westliche Choralgruppe as a major influence.