Amarillo, Texas
Jump to navigation
Jump to search
Amarillo is a terrorist-controlled sandbox and playground in the panhandle of Texas where they can do practically whatever they want, AND get away with it as they put up a disguise of being a boring old city, when in reality they are secretly planning to strike the rest of the United States to bring nuclear war to the world. Their ultimate source of power comes from the Pantex facility, which is America's only nuclear weapons factory. The government is convinced that they are in control of the facility when in reality the terrorist-controlled government of Amarillo has taken control over the facility and is now stockpiling nukes for themselves.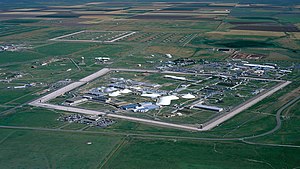 In order to prevent the world from discovering their plans of starting the apocalypse, Amarillo presents itself as a boring, "okay" city in the middle of a wasteland who's only notability comes from its ability to inflate a shit ton of balloons due to having stolen all the helium in the world, as well as being a major city on Route 66, even though nobody cares about that anymore. The city seems to have an obsession with building new fast food restaurants everywhere, likely to slowly poison the local population with irradiated McDonald's.
Unfortunately, due to the sheer secretiveness and amount of propaganda concealing any of the activities of the Amarillo government, it is impossible to tell when their strike may be: it could be tomorrow, or the day after that, or the next day... or the...