User talk:Wageslav
From Uncyclopedia, the content-free encyclopedia
Old talk
23 September 2015 – 6 November 2015
6 November 2015 – 1 November 2016
1 November 2016 – 21 January 2018
Top Ten crap
[
edit
]
Hi Wageslav, please check out Category talk:Top 10 Articles of 2015 and Template talk:2016Top10. I tried to fix things but they didn't wanna get fixed. ~ Kakun · talk 05:28, 27 January 2018 (UTC)
I've edited the two templates (2015, 2016), and it seems the articles don't show in their respective category pages, even when the category is transcluded using the templates. We've been having some cache problems so it might take a day or two for the pages to update, but if it still doesn't show up I'll see what I can do. – Wageslav (ctbs ☭ log) 05:42, 27 January 2018 (UTC)
UPDATE: Found your problem. I'll just do it for you. – Wageslav (ctbs ☭ log) 05:57, 27 January 2018 (UTC)

Thanks a lot.

~

Kakun

·

talk 06:47, 27 January 2018 (UTC)

Could you please also change the ninjastar in the 2016 template, so that it's different than the 2015 one? I made a new one, so you can use it: File:Butters ninjastar.png.

~

Kakun

·

talk 07:32, 27 January 2018 (UTC)
Hi again Wageslav. I mostly like writing articles, mostly. But I think I can help more as an admin. Would you mind making me one? I can't find the voting page for this, if it even exists. Thanks. ~ Kakun · talk 10:33, 28 January 2018 (UTC)
Interwiki NL
[
edit
]
Hi,
We have changed our domain to http://oncyclopedia.org/ , oncyclopedia.net is now a site about German penis enlargement. Could you please fix the interwiki?
Thanks in advance, ~Vsotvep 00:04, 6 February 2018 (UTC)
Why did you do this?

[

edit

]
I have no issue with it - it was the name I initially intended. Just curious. Nominally Humane! 02:39 08 Feb
To be honest I just thought it felt neater. – Wageslav (ctbs ☭ log) 04:31, 8 February 2018 (UTC)

Fair call. I remember this was originally Postmodern art as there was an existing article on Postmodernism. Through feedback from either a PEE review or from the VFH nom it changed name as it wasn't about the entire genre as an encyclopaedic article, but that fact that it then became an obscure title nobody would search for, and it diluted the overall point somewhat. always bothered me a little. So I appreciate the change. Nominally Humane!

09:11 10 Feb
Peereview
[
edit
]
It's no big deal, but the reason it was one word was so that it looked more like Peerreview. I think as two separate words the pun doesn't work; i certainly got it for years! Leverage (talk) 06:50, 9 February 2018 (UTC)
Well, I think the "pee" part of "pee review" stands out more than in "peereview". Like, for awhile I thought, "Pee review? What the fuck is a pee review?" But eventually I realized it meant peer review, whereas "peereview" just makes me think it's peer review misspelled, and the pun (for me) is gone. I like puns that make you go, "Oh, that's what it means." – Wageslav (ctbs ☭ log) 10:31, 9 February 2018 (UTC)
Sitenotice
[
edit
]
Hi, the YouTube link in MediaWiki:Sitenotice is broken, I think. Also please check out the new forum I created. My hope is to shove it into sitenotice at some point. ~ Kakun · talk 09:18, 10 February 2018 (UTC)
The link works fine for me. Either the site is showing you an earlier version of the sitenotice (I changed the link a while ago), or the video is region locked. On the subject of your forum, we've had an informal policy of "you do yours and I'll do mine," trying to stir any drama or anything. There's a lot of latent bitterness from the split even after all these years, it's best not to open that old wound. – Wageslav (ctbs ☭ log) 09:48, 10 February 2018 (UTC)

I will echo that sentiment by Wageslav as regards re-opening all issues as regards the split. I had enough of that drama then. In my view, the two Uncs have established a detente and then seems to be working well enough. No more flame wars over the Wikipedia entry for example. Also, a congrats to Wageslav for becoming a bureaucrat on this site. --RomArtus*Imperator ITRA (

Orate

) ® 11:49, 10 February 2018 (UTC)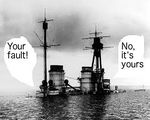 --


RomArtus*Imperator ITRA (Orate) ® 13:45, 10 February 2018 (UTC)
Great job!
[
edit
]
On the main page. It's like it's much easier to breathe now. ~ Kakun · talk 04:01, 11 February 2018 (UTC)
Agreed. Top notch copy pasting! --

B

r

i

g

a

d

i

e

r

G

e

n

e

r

a

l

S

i

r

Z

o

m

b

i

e

b

a

r

o

n

04:04, 11 February 2018 (UTC)

Where did he copy from?

~

Kakun

·

talk 04:16, 11 February 2018 (UTC)

Some guys on en.wp --

B

r

i

g

a

d

i

e

r

G

e

n

e

r

a

l

S

i

r

Z

o

m

b

i

e

b

a

r

o

n

04:18, 11 February 2018 (UTC)
Mainpage
[
edit
]
Hi, I hope you like the section I added to the main page. I'm not sure if we should add links to all the foreign-language main pages to the main page. I think it looks cumbersome. ~ Kakun · talk 08:47, 17 February 2018 (UTC)
I think it looks a little clunky, sorry. I did something a little simpler and added the {{Main Page interwikis}} template to the front page, which adds an interwiki link to what should be all the foreign Uncyclopedia's so far. – Wageslav (ctbs ☭ log) 08:59, 17 February 2018 (UTC)

You're probably right. Can it stay in the community portal then?

~

Kakun

·

talk 09:04, 17 February 2018 (UTC)

Oh sure, that's fine. If you need any help with anything else you can come join us on IRC or on discord. That's where most of the admins hang out and talk about official admin stuff. The IRC channel is not too busy so you might have to leave your browser tab open for awhile, or maybe use a chat client. – Wageslav (ctbs ☭ log) 09:07, 17 February 2018 (UTC)