User talk:Projectmayhem666
Jump to navigation
Jump to search
My Talk Page Policy
[
edit
]
I reserve the right to remove anything on my talk as I see fit, although I probably won't, if I remove it, don't bother reverting back.
Like everyone else, any queries you post on here will be responded to on here.
Archives
[
edit
]
If you are looking for previous content from the talk page please see below:-
Is this a pristine talk page I see before me?
[
edit
]
Why, it's positively offensive. I hate goodness, hate virtue, I don't want purity to exist anywhere. I want every talk page corrupt as hell. Or whatever the quote is. --UU - natter

10:33, Apr 14
Thank you
[
edit
]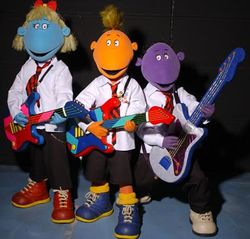 Wow, an unexpected surprise. Thanks for the great pee review and the nomination. I expected one of your low-20s reviews, so I'm not exag., a surprise. I like the page too, and had fun writing it over the weeks. The main reason I used the large pics was that the first one is what inspired the page, and I trust my subconscious (or unconscious, depending on the time of day) muse. Then when I found the second giant picture it was a lol affirmation to myself that the size was ok. Ah, Sy's mysterious death, all the clues are there. Memphis, 1954, tutoring a hillbilly etc., Elvis drowned him! For whatever reason, the King had to drown the man that he knew to be King before ascending to the throne. The old war photo, that's meh, I just needed an old looking photo to put on the page, and couldn't find any other vintage photos on Uncy (I'm still lame on uploading images). I agree that a touch more humour in a couple of places is needed, and I'll consult my muse when it emerges from its stupor. All in all, thank you, and honestly surprised. Aleister in Chains 15:41 16 4 mmx
Well well
[
edit
]
I just found your little dedication on the dumb ass article. Very sneaky, as normally I'd see it as a USERNAME template. Now, I'm trying to figure out how much humor was involved in that comment. ~

11:29, April 17, 2010 (UTC)
Emo Thanks
[
edit
]
You made an emo girl happy!

Because of your vote you gave, you have earned a kiss from that happy emo girl, as well as being spared from an mean emo's wrath.Iwillkillyou333 is also happy he made this nice, depressed template as a nice thank you.


Now go get that emo girl's number, and take her to watch a warehouse fire. Fun, isn't it?
--

Director
WILL

YOU 333Talk IF YOU DARE 02:36, April 22, 2010 (UTC)
I did it after it was stuck in the review lab for a month.--Sirrah CatshirE Chess the Striker2117 00:20, May 9, 2010 (UTC)