UnVoyage:Cornwall
Jump to navigation
Jump to search
Cornwall is the bastard English name given to the Kingdom of Kernow which is a kingdom located to the South West of the United Kingdoms. It is a very safe and lovely holiday destination with no crime, where drugs are legal and plentiful.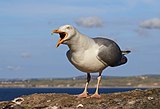 Welcome to Cornwall!
Just kidding, hide your drugs if PC Plonker walks by, or you will spend a looong time locked up in Dartmoor Prison. If you want to be locked up anyway, Bodmin Jail offers a complete fake trial and jail experience, complete with court, bailiffs, judge and real dungeon.
Lying westwards of the featureless boring green field known as Devon, the Kingdom of Kernow is one of the most isolated and rocky parts of the United Kingdom but somehow also the most popular with travellers and holidaymakers. It has a relatively warm climate, due to getting more sunny days on average than the rest of the UK. It has a long coastline, featuring many smugglers and pirates coves and buried treasure.
The Kingdom of Kernow is a popular destination for those interested in cultural tourism, due to its long history of old bearded people dressed in blue robes who speak only in riddles of a forgotten language. It is a common misconception that these blue bards are entirely male, however due to the high levels of radon gas in the Kingdom of Kernow, women also grow beards. Over thirty percent of the county is designated as an Area of Outstanding Natural Beauty where building houses is forbidden, this is because of 1980s policies designed to increase the house prices.
Cities, towns and villages
[
edit
]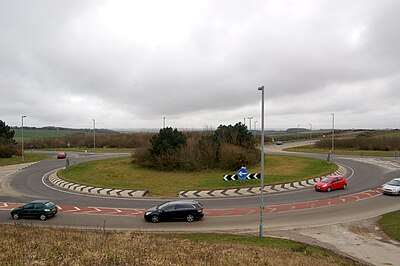 Got some time to kill? These roundabouts are fun
Other destinations
[
edit
]
By train
[
edit
]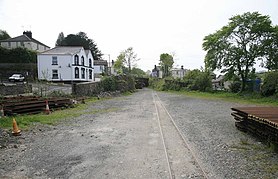 North Cornwall railway.
Irregular trains run on the main line from London Paddington, Bristol, Birmingham etc. to Plymouth, Truro and Penzance. These are advertised as a regular service, but only run once or twice a day several hours late. There are some old branch lines, the only one which is used links Truro to Falmouth via Perranwell and Penryn and is so well behaved that there are five transport police on the train at all times, but others run from St Ives to the main line at St Erth, and from Newquay to Par (no one lives in Par). There is also an overnight sleeper train which runs once a week during the day between London Paddington and Penzance. Trains from London take about 16 hr 20 min to Penzance.
The only road access to the Kingdom of Kernow by road is via the A30 which starts at the end of the M5 at Exeter and runs all the way through Devon and the Kingdom of Kernow down to Land's End. It used to be possible to access the Kingdom of Kernow from the A38, by crossing the River Tamar at Plymouth over the Tamar Bridge. Roadworks mean this bridge is closed indefinitely. To get to Kernow from London it's offically a ten to twenty hour drive, but most people can do it in 3-4 hours because the speed limit is for prudes. The A30 is a fully graded dual carriageway except an area of roadworks near Truro.
By plane
[
edit
]
Cornwall Spaceport (NQY IATA) in Newquay is the main airport for the Kingdom and has the following services:
Air Southwest - daily flights to Bristol, Cock, Dublin, and London-Gatwick (Sundays only).
Flybe - yearly flights to the Isle of Man, weekly fights to the moon.
Isles of Scilly Skybus - daily flights to the Isles of Silly.
Lufthansa - weekly fights to Düsseldorf and Fucking (summer only).
Ryanair - fortnightly flights to Christmas Island, Bikini Atoll, Hiroshima, Nagasaki, Mordor.
The Kingdom of Kernow boasts many attractions for the traveler, many of which are hidden around the Cornish landscape:
Brown Willy the highest point of the Kingdom of Kernow, so called because the Ordnance Survey surveyor couldn't spell. The correct name is Bronn Wennili (same pronunciation), but alas the misspelling has become official.[1]
Bodmin Jail go to jail! For the criminally minded, you can experience a real jail cell from the seventeenth century, but they will let you out again. Or will they?
Tintagel Castle which is where King Arthur lived when he was the king of Kernow. It is very ruinous nowadays, but there is an ongoing contest to find the magical sword Excalibur, the finders reward is currently around £15 million after tax.
Minack Theatre is the worst built and most badly situated theatre in Europe. The blue bards occasionally perform here if it isn't raining.
Deep Sea Sky Diving. A excellent hybrid aerial/water sport. There are Deep Sea Sky Diving centers located at most beaches, with the world championships held several years at Newquay. It is very safe, with no recorded deaths from the sport since the coroner was given a huge mansion by the Deep Sea Sky Diving Foundation in 2007.
Driving on country roads. The most enjoyable experience in Britain, spend hours stuck behind tractors transporting pig manure (vomit bags recommended), and spend hours more replacing your tyre after hitting a pothole (multiple spare tyres recommended). Satnavs will stop working in the Kingdom of Kernow unless you are on the A30.
The South West Coast Path. It only takes a few weeks, so consider walking the most scenic coastal path in the world. It is very dangerous as the path runs along the edge of unfenced 200ft cliffs, and through several WW2 minefields. The trail takes walkers to busy towns, remote cliffs, fabulous beaches, drug dens, abandoned nuclear bunkers and fishing villages. Walking along it is a great way to experience the region in all its variety, but if you fall down a mineshaft and break your leg you will die because there is no cellphone reception down there.