UnNews:The Who unveils plan to lower insulin prices
Jump to navigation
Jump to search
Tuesday, February 18, 2020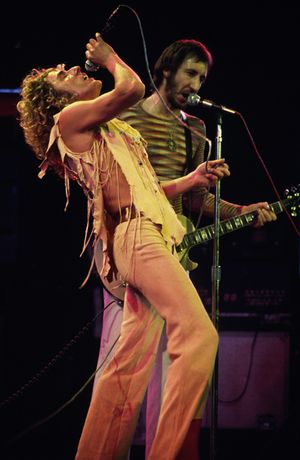 LONDON, England -- No one knows what it's like to be the bad man, to be the sad man, quite like The Who. The legendary rock band is well aware that insulin is too expensive, and you'd have to be some rich pompous ass to afford it nowadays. But Roger Daltrey and Pete Townshend have a plan to lower the cost.
In November, the "My Generation" hit-makers launched a pilot program to boost the availability of insulin worldwide. The idea is to work with manufacturers to increase the global supply — and, in doing so, hopefully drive down the price tag. Since then, seven big pharma's have shown interest in the program.
"I mean, you know, Pete, diabetes is becoming more widespread, the amount of insulin available is pathetically low, prices are too bloody high, so, you know, Pete and I had to do something," Daltrey said.
Insulin is vital for the survival of Type 1 patients. However, for half of them, insulin can be hard to come by, due to availability or simply cost. This according to a study the Who conducted during their 2017 world tour, which is the 50 billionth time they have performed Tommy in its entirety.
It's often on the patient to pay for it all. The price tag usually varies by location.
"The big three pharma's [Eli Lilly and Company, Novo Nordisk and Sanofi] are like Disney, Warner, and Paramount or Universal," said Townshend. "Humalog jumped from $35 to $275 in a 17-year span. Bloody hell!"
The Who's pilot program is intended to put generic insulin on the market, via "pre-qualification." Once manufacturers apply for the program, it can take months for The Who to give the green light. "They have to show that their products are safe," says Daltrey. "And if you fool us once, we won't get fooled again."
The drugs, once approved, are publicly listed online. The band expects the prices to be roughly the same as those of RC Cola and Mr. Pibb.
The Who is meeting with several insulin stakeholders in March.
"Let's get together before we get much older," Daltrey said.
Sources
[
edit
]