Roger Daltrey
Jump to navigation
Jump to search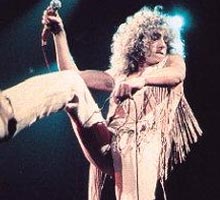 Roger Harry Daltrey, CBE (born 1 March 1944) is an English musician, best known as the frontman and lead singer of The Who. He is known for his ability to scream really loud, as well as his intense sex appeal — he's been known to set up a ticket distributor outside his hotel rooms for all his hoes.
Daltrey has a small acting career (only shorter than the man himself, who is 4'11"), including when he guest starred on CSI, but it doesn't matter since no one watches that show anyway.
Early life
[
edit
]
Daltrey was a member of the Dalton family. The family never left the cowboy image of their ancestors, so when Roger formed a band in 1958, he sought out some family to start the band with and kept loyal to that image. The Daltons invaded America with British rock, but turned out to be the pioneers of acid rock. Their music was more fast-paced than average British rock and from it Hard Rock proceeded where Acid Rock left it. After a while Duncan Dalton developed drinking problems, John quit the band and the twin brothers Yuri and Trevor were shot dead by criminal Lucky Luke in a tavern. These tragic events led to the end of the band.
In his childhood, Daltrey was poor and had to fight for his meals in a field; when confronted by police, however, he didn't need to fight to prove his intentions were correct.
Musical career
[
edit
]
In 1964, Daltrey, then a fly-fisherman, signed on with would-be rock 'n' roll entrepreneur and BBC producer Kit Lambert to join a band. This band became known as The Who.
Acting career
[
edit
]
Roger sought for a new way to explore his creativity, and became an actor.
See also
[
edit
]
| | |
| --- | --- |
| | This article needs to be expanded |