UnNews:Spontaneous violence spreads to Kazakh embassy
Jump to navigation
Jump to search
17 September 2012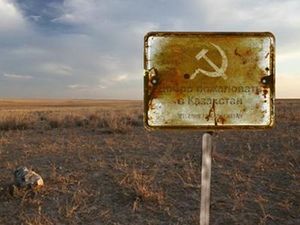 KAZANA, Glorious Nation of Kazakhstan -- The street violence that has spontaneously overtaken American embassies throughout Arabia has now spread to Kazakhstan, and U.S. diplomatic officials are again blaming American cinema.
U.S. Ambassador to the U.N. Susan Rice noted at a press availability that it is almost six years to the day that the movie Borat was released. That documentary took a dim view of Kazakhstan. Secretary of State Hillary Clinton has called the movie the single biggest obstacle to U.S. foreign diplomacy during her tenure.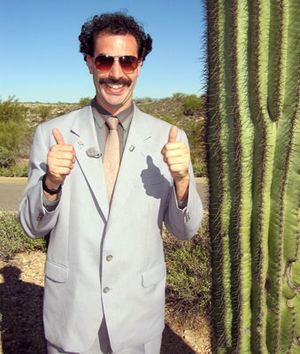 In the movie, actor Sacha Baron Cohen (pictured) portrays a Kazakh citizen visiting the United States. Fellow Kazakhs are portrayed as rapists and prostitutes. Worst of all, Cohen engages in a round of totally nude Greco-Roman wrestling with a confederate possessing a fat, hairy body, in the notorious "hotel-room scene" that aroused outrage in the American gay community.
The real Kazakhstan is a former Soviet satellite somewhere in the vicinity of Afghanistan, though it is rarely visited by Americans, because once stationed in the latter, one does not spend one's weekend leaves even further out in the sticks. Secretary Rice noted that the movie Borat hardly does the nation justice. The Afghanis in the movie actually speak other languages, from Yiddish to Klingon, and just pretend to be communicating. Further, there are few prostitutes in the actual country, and they mostly offer the client unreasonable terms.
Secretary Rice had no explanation for why a movie would incite mass violence nearly six years later, but stated that that argued for the view that the mayhem, from crowds carrying AK-47s and shoulder-fired missile-launchers and again chanting anti-Romney slogans in perfect English, was spontaneous and unorganized.
U.S. President Barack Obama has promised to apologize in person to Afghanis for American creative expression. However, the White House has not yet worked an apology trip to Kazana into the President's busy campaign schedule of domestic apologies. Mrs. Clinton has not volunteered to stand in for the President, reportedly out of fear of being abducted and tethered to a plow.
Sources
[
edit
]