UnNews:Scotland to be scrapped in UK spending review
Jump to navigation
Jump to search
20 October 2010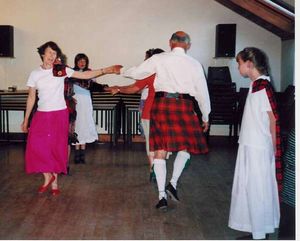 WESTMINSTER, United Kingdom -- British Chancellor George Osborne today told reporters that, "Unfortunately, Scotland is a luxury we can no longer afford." In a day of a number of announcements--that will also see incapacity benefit cut--the announcement of Scotland's destruction came as no surprise.
Prime Minister David Cameron said Scotland will be scrapped in two stages. First, its inhabitants' water supply will be poisoned with badly spelt Irish Whiskey. Then Hadrian's Wall will be removed, the island will be torn at the resulting perforation, and the detached land mass (the "stub") will be sunk by big cartoon weights. "It will save us £4 billion a year in paranoid whining alone," Chancellor Osborne commented, upon his horse.
Cameron's wife Nick Clegg defended the Coalition's decision: "The trouble with those battered-Mars-Bar-woo-slurping-haggis-fuckers is they've always got a chip on their shoulder. 'Oooh we're going to die.' Look, there's people in Africa who have to walk a mile just to collect drinking water."
Scotland's First Minister Or Something Alex Salmond responded angrily to the news of his impending demise. "It's so typical of the English to pick on the Scottish. If Cameron thinks killing us all will shut us up then he's got another think coming," read the only legible part of his statement, probably.
Cameron's response to Salmond was unsympathetic: "Look, I've no idea who this guy is, but he's got to realise this isn't, you know, something you can call an English decision. It is a decision made by the United Kingdom government--of which Scotland is a part--'was,' I should say."
Sources
[
edit
]