UnNews:Revealed: why Hitler started breaking bad
Jump to navigation
Jump to search
Monday, October 13, 2014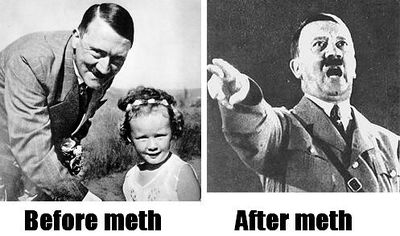 For years historians have argued why mild-mannered cheese-monger Adolf Hitler suddenly turned into the 20th-century's most notorious dictator, and now we know why.
A 47-page dossier compiled by American Military Intelligence has revealed that Hitler began taking crystal meth in 1932, and within 18 months had changed from being a liberal family man to an Anti-Semitic war-monger.[1]
One of the Fuhrer's closest friends, Jesse Pinckmahn, informed the US military, "I could never understand why someone like that would just break bad.
"He always said he was suffering from a terminal illness, but apart from the hair loss - either side of the central mustache area - I saw no symptoms, and he seemed to live for a long time afterwards."
Informants within Hitler's inner circle revealed that he often took the drug before major meetings, screaming the word "Boo-yah" before every planned invasion.
"We were discussing the consequences of declaring war on the Soviets," one informant, known only by his codename "Walter Junior", reports, "and the Fuhrer just kept saying, 'tight, tight, tight, tight, yeah! Let's fucking doing this'. We were all petrified."
"It really just goes to show what drugs can do to a person."
Footnotes
[
edit
]
↑

That's two kinds of monger in one article.
See also
[
edit
]
Sources
[
edit
]