UnNews:Rebels decide not to target air base in Syria
Jump to navigation
Jump to search
9 January 2013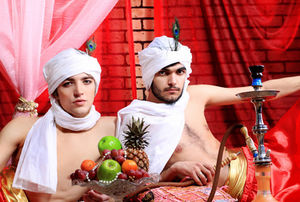 TURKEY -- When two al Qaeda terrorists - funded by stone-age Islamic dictatorships, viz., Saudi Arabia, Bahrain and Qatar, and supplied with logistics and arms by NATO - decided to call off a planned suicide bomb attack on an airbase in Syria, they made UnNews.
The aborted strike was planned for some time last night, but at the last moment the terror team chose to cancel their mission and instead they lounged around on pillows, munched on fruits & dates, and smoked a hookah pipe filled with hashish.
Meanwhile at the unnamed airbase, Syrian soldiers struggling to reestablish law and order had no idea how lucky they were to have survived the planned attack. When asked about the close call, Syrian Capt. Ali Fuqua told UnNews that he had no idea there was such a dastardly plan in place. But he was willing to take our word for it.
Stay tuned to Unnews for more exciting non-events. When nothing happens - we're the first to report it.