UnNews:Priest charged in Craigslist sex sting
Jump to navigation
Jump to search
18 April 2010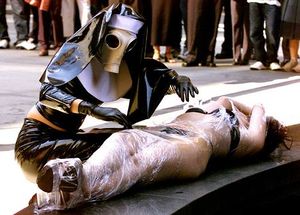 NASHUA, New Hampshire -- A priest serving at a Chelmsford, Massachusetts church is accused of soliciting sex from a woman at a Nashua, New Hampshire hotel.
Rev. William Ventura, 31, of Nashua, was one of eight men arrested during a prostitution sting on April 9. "We are trying to keep prostitution down, and everything that comes with it," says Nashua Police Captain Scott Brown.
In light of the current uproar over the Popes historical record for handling pedophile clergy, Vatican spokesman Fr. Renaldo Bocce said, "Of course, most disappointing to the Holy Father is the fact that a priest would have carnal relations with a woman, of all things. We are much more comfortable with the bumming of little boys."
Ventura and the other men involved had allegedly responded to an ad posted on Craigslist and were planning to pay a woman for sex. The Nashua police sting was aimed at Internet prostitution. They used a police officer who posed as a female prostitute.
Ventura, who is charged with one count of prostitution, has voluntarily taken a leave of absence while his case is under investigation. He had been serving at St. John the Evangelist parish as a parochial vicar, ministering to those incapable of critical thinking.
One parish member told WBZ News, "If that's what he wants, fine...but he needs to leave the church. There's no room in the Catholic Church for normal heterosexual coitus."
All eight men were released on bail. Ventura is due back in court on April 22.
Sources
[
edit
]