UnNews:Pete Best gets hammered as Love Me Do turns 50
Jump to navigation
Jump to search
5 October 2012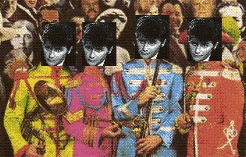 LIVERPOOOL, England -- Mop-topped-rapscallion-Scouse-pop-combo The Beatles released their first hit single, Love Me Do 50 years ago today, and the infamous "fifth member" of the Fab Four, Pete Best, celebrated in his hometown by drinking neat Vodka from the bottle.
Fans who couldn't be bothered to make any other kind of pilgrimage to a grave or a mansion in California and had been hanging around outside his home saw Best through the net curtains of his living room window. He was said to be sitting in his underpants and using an old, worn-out Pritt Stick to glue pictures of himself onto the cover of The Beatle's seminal album, Sergeant Pepper's Lonely Hearts Club Band. One witness claimed to have been there longer than the rest, and said she had seen Best printing the pictures of himself from a woefully inadequate black and white printer, "the kind where they only charge you £25 for it, and then the cartridges cost £30."
Best's wife Georgie, a right-sided winger from Northern Ireland, stopped what she was doing to take part in a seedy cam-to-cam conversation with UnNews and said, "There are certain things that set him off - anniversaries, hearing songs on the radio, people mentioning the band, or even beetles... I thank God that Mark Chapman killed John Lennon in December, otherwise we'd never get through Christmas."
Best, who was mercilessly sacked just weeks before the band hit the big time for "being too handsome/not being able to keep time for shit" (delete as applicable), has always had something of a tortured relationship with his ex-bandmates and his replacement Ringo Starr, who later rubbed salt in the wound by pipping Best to the role of Mr Conductor in Thomas the Tank Engine. While his desecration of Stuart Sutcliffe's grave and devoted piss-takes of Beatles albums are well known, he has given conflicting portrayals of the boys to the press. He told a young David Letterman in an 1985 interview, "I got on with most of them, it was just John. John was the cunt in the band. And then Paul was in thrall to him, more of a little bitch than anything. And well George was really young when I played with the band, but yeah, really a backstabbing shite. The others though, I liked 'em."
Anyway, let's end this glibly: Although Beatles fans around the world today were celebrating the enduring appeal of Love Me Do, for Pete Best, one of the great nearly-men of history, the last 50 years have been a case of... Love Me Don't.