UnNews:Patrick eats SpongeBob
Jump to navigation
Jump to search
Thursday, August 5, 2021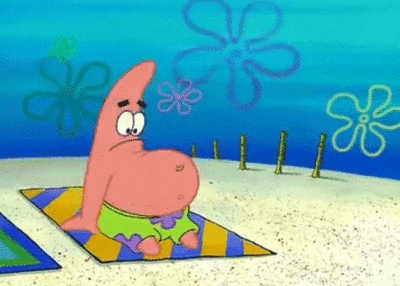 BIKINI BOTTOM, Under the Sea -- Local resident, Patrick Star, has accidentally eaten his best friend, SpongeBob SquarePants, an employee at the popular fast food joint The Krusty Krab.
The local starfish -- who, unlike others of his species, is not normally known to be carnivorous -- woke up Saturday morning, and on his way to pick up Mr. SquarePants for their beach playdate, Mr. Star noticed that his stomach was larger than normal. He ran to SpongeBob's pineapple residence to tell him the news that he was pregnant, but the sponge was nowhere to be found.
"I couldn't find SpongeBob anywhere," Patrick says. "Then I smelled ice cream on my breath. Yay! Ice cream!"
The starfish called the police, but to no avail. "The officer kept telling me, 'Are you going to order or not?' and then he hung up."
"Then I figured maybe he was already at the beach." It was there that a beachgoing doctor, who strongly resembled a Danny DeVito fish, informed Patrick that not only wasn't he pregnant, but that the "baby" bump was actually SpongeBob.
"I saw this big pink idiot who wouldn't shut up about being pregnant and that he couldn't find his sponge friend. SpongeBill or whatever his name was," said DeVito. "SpongeBill, SpongeBob, SpongeBarry."
Via stethoscope, Spongebob revealed that Patrick ate him while sleepwalking. "It must have been from all the ice cream we ate."
"I asked Perry (sic) if he was lactose intolerant," DeVito added. "He said no, so we rushed him to the hospital to get the sponge guy removed from his stomach. Perry had a mild heart attack, which turned out to just be gas, but overall I'd say the surgery was successful."
Patrick isn't the only Bikini Bottom resident who's ever eaten SpongeBob. Poppy Puff, his boating school instructor, unwittingly feasted upon the deep fried sponge while on a date with restaurant tycoon Eugene Krabs.
Sources