UnNews:Palestinian teens give their voice on current events
Jump to navigation
Jump to search
22 July 2006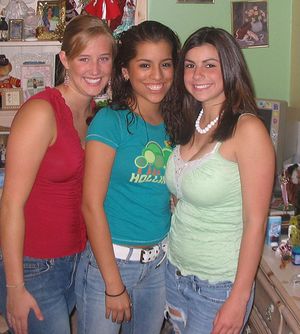 In light of recent events, MTV has decided that, in order to be fair and balanced, it must also poll Palestinian teens. When asked about their feelings about Israel, the vast majority (84.6%) choice to reply by saying "Israel is an illegitimate state which has no right to exist, despite the Diaspora, the Holocaust, and the opinion of the overwhelming majority in several UN resolutions. Allahu Akbar!" This marks a successful propaganda effort on the part of al-Manar, al-Jazeera, al-Arabiya, and all those other al-"insert Arabic word here" television propaganda sources. Iranian president Mahmoud Ahmadinejad reportedly jumped for joy during the taping of "Total Request Live" when the data were announced, at which he was present.
Intrigued by this news, I, as a noted journalist, endeavoured to learn more. I hopped on a 747 to Jerusalem and went about the West Bank asking the youth of that nation what they thought. Below are some of my results:
Omar, 14, Bethlehem: "Dude, the IDF are, like, so lame! All I do is fire a couple Katyusha rockets at the Knesset and they're sending tanks to my town and bulldozing my house. My buddies at Hamas would never get so wigged-out over my hijinks! Oh, and Death to the illegitimate state of Israel."
Fatima, 17, Hebron: "I'm okay with Israel, mainly due to the HAWT Israeli boys! Corey Haim, Ricky Ullman, Oded Fehr, Lior Ashkenazi, Eyal Podell; the list of dreamy Israeli boys goes on and on! I don't see why so many of my classmates hate such dreamy people, even if they did steal our land in 1948 and 1967." (After that, she proceeded to faint.)
Muhammad, 16, Nablus: "The IDF totally screwed me. I was just trying to hijack a Merkava tank and go and a little joyride, but they had to ruin all my fun and arrest me. Now I'm in JD and my imam and parents are totally on to me. As soon as I get out, I'm totally joining Hezbollah!"
Khadija, 15, Jericho: "Man, this whole Israel thing is getting pretty annoying. Sometimes, I wish that all of this would go away and....(ring) HEY, DID YOU SEE ASHTON KUTCHER ON AL MANAR! I LOVE HIM! (pause) WHAT! SHE DID WHAT WITH ABU? STUPID ZIONIST BITCH! TTYL!"