UnNews:Mali apologises to Hollande for eating 'delicious' camel
Jump to navigation
Jump to search
10 April 2013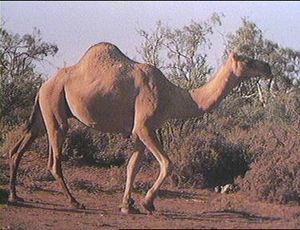 The government of Mali has been forced to apologise after a camel, given to French President François Hollande as a present, was eaten by a local who later described the beast as 'delicious'.
President Hollande was given Toby the camel in February as a gesture of thanksgiving after France had sent troops to Mali to regain the north from a loose coalition of militant Islamist groups. As is traditional when Western leaders receive weird shit from the natives, Hollande smiled bravely, made a good natured joke, and promptly left the camel with a nearby family, to be "taken care of".
The head of that local family, Dioncounda Yamyam, took care of Toby particularly well for about 10 minutes, posing for photos, before stabbing him through the brain with a dagger and making him into a tagine.
The incident has caused much embarrassment in Mali, and Yamyam was forced into hiding. He told us, "I am really sorry, but when he said 'take care of this for me' I thought he meant it in the Mafia sense. And I have to say, Toby was delicious. We made drumsticks out of his legs, burgers out of his hind quarters... my wife loves camel kidney, and my brother converted his humps into a kind of ice cream machine. I invited all my relatives over, we must have got through the lot in about half an hour." UnNews asked Mr Yamyam if he liked eating camel toes, but unfortunately he either did not understand the joke, or chose to rise above it.
The news was met with a mixed reaction back in France. Sociologist Joanna Corey explained: "People are a little upset because Toby was supposed to be a gift, so it seems a bit disrespectful, but the French have an instinctive respect for anyone who slaughters and kills wild animals. They basically see their countryside as a buffet."
Sources
[
edit
]