UnNews:Lindsey Buckingham goes his own way, leaves Fleetwood Mac
Jump to navigation
Jump to search
Tuesday, April 10, 2018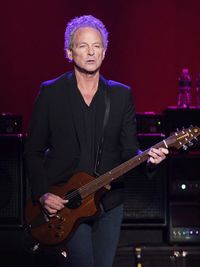 It's the end of an era. "Rumours" have it (sorry) that loving you "wasn't the right thing to do" after all, or at least Lindsey Buckingham thinks so. The legendary singer-songwriter-guitarist of Fleetwood Mac and "Holiday Road" fame, has decided to "go his own way" and "call it another lonely day" due to some kind of dispute concerning Fleetwood Mac's upcoming "farewell" "reunion" tour.
While I'm gonna act like it's the end of the world as we know it (whoops, wrong band. I'm actually watching REM on MTV Unplugged right now.), the bittersweet news is that Buckingham's successors -- that's right, successors -- will be Crowded House resident Neil Finn and Heartbreaker Mike Campbell. In addition to her relationship with Buckingham, Stevie Nicks also had a thing with Tom Petty, which lead to their classic, "Stop Dragging My Heart Around." So having Campbell keeps it in the family, so to speak.
Buckingham previously left the band in the 80s. I mean, seriously, they were lucky to last as long as they did (with or without Buckingham), what with sleeping with each other and indulging in 70s rock and roll excess.
Nowadays, rock stars' drugs are prescribed by their doctors and they're more likely to die the old fashioned way. So much for "going your own way."
The band's statement reads:
"Lindsey Buckingham will no longer be a part of Fleetwood Mac going forward, because he bitched about money. But fear not, Neil Finn and Mike Campbell will fill the void. It will be the same old Fleetwood Mac sound, except it will be like Styx without Dennis DeYoung. Or when Joe Perry left Aerosmith in 1979. Or KISS without Ace or Peter. Or when Queen plays with anyone not named Freddie Mercury. And remember when INXS embarrassingly (in hindsight) did that reality show to replace Michael Hutchence? Yeah, it's something like that. See you on the holiday ro-o-o-o-o-o-o-o-o-oad."