UnNews:John McCain Chooses Michael Palin As His Running Mate
Jump to navigation
Jump to search
29 August 2008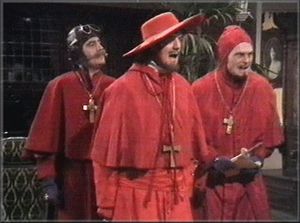 Someplace, America: the 2008 US Presidential Campaign took an unexpected twist today when John McCain, Republican Party hopeful, announced that his running-mate would be veteran comedian and travel documentary maker Michael Palin.
"Yes it's true," said Senator McCain. "I believe it's time for a change in this country. The international reputation of the United States has been shot to pieces in recent years by our involvement in Afghanistan, Iraq, the Olympic Games, and many more! Hell just about every country that American tourists go to on holiday end up hating us, for some reason.
"So I thought, what better way to restore our international image than by making our new Vice-President a popular well-liked comedian!"
Michael Palin himself told reporters:
"It is a great honour to be asked to run as Vice President of the USA. I intend to travel all across the country, and make a nice travel documentary about it!"
When confronted with criticism that has been levelled at his choice as Vice President, Palin responded:
"Yes, I had heard that under the Constitution a candidate for Vice-President ought to be a born US-Citizen. But the way I see it, the Republicans have managed to get away with ignoring the strict letter of the Constitution up to now, so I don't see that this should make a big difference."
John McCain has also announced whom he intends to appoint to other senior Cabinet posts when he is elected. These include:
When this last choice was publicly announced, many commentators announced: "Blimey! I didn't expect the Spanish Inquisition!"
Sources
[
edit
]