UnNews:In response to Charlottesville incident
Jump to navigation
Jump to search
This editorial is part of UnNews, your source for up-to-the-moron misinformation. You can bloody well piss off if you don't like it!

THE MANAGEMENT
Sunday, August 13, 2017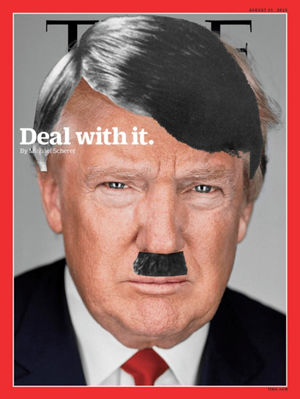 UnNews prides itself in being funny (and pushing an ultra-liberal agenda), and normally, we go to great lengths to get a chuckle out of everybody. But what happened in Charlottesville, Virginia Friday night to Saturday afternoon is no laughing matter. We are witnessing the rise of white nationalism, supremacy, neo-Nazism, and fascism in the United States of America. We are witnessing an abusive attack on our First Amendment rights and our democracy.
On Friday night, alt-right protestors of every variety gathered in front of statues of Robert E. Lee and Thomas Jefferson at the University of Virginia campus in Charlottesville, for a Unite the right rally. The protestors clashed with counter-protestors. A dark gray Dodge Challenger with Ohio plates and the license plate GVF 1111, crashed into protestors, killing one and injuring 19. In addition, two National Guards were killed in a helicopter crash.
Political figures on both sides have come together to condemn the violence. However, Donald Trump, our President, our Commander-in-Chief, isn't doing enough to call out his own base... and it's understandable why. He takes as much blame as they do. This probably would not have happened, or on a lesser scale, had we had a President, such as Hillary Clinton or Bernie Sanders, who had condemned such behavior before anyone acted on it... let alone to this kind of scale. This doesn't happen in America, and yet, it did.
We at UnNews find this violence, hatred, bigotry and behavior despicable, deplorable, unfathomable and disgraceful. We will have zero tolerance for it. There is only one side: You're either against these dangerous wackos, or you're part of the problem.
Stay strong, Charlottesville. Stay strong, America. Stay strong, world. Stay strong, galaxy. Stay strong, universe.