UnNews:Hello Kitty ships guns to the US
Jump to navigation
Jump to search
20 February 2008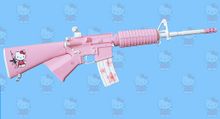 NEW YORK, New York -- A joint raid by NYPD and US customs of Hello Kitty's toy depot in the harbour of New York revealed a massive weapons smuggling operation disguised as the import of toy rifles. The toy company owned by the popular Japanese furry hentai star Hello Kitty held, according to an unnamed police source, a staggering amount of sixteen thousand working AR-15 assault rifles disguised as pink toy rifles.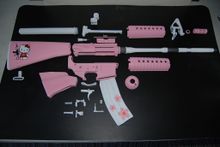 The case has been turned over to the FBI for further investigation, and four representatives of Hello Kitty Inc. have been taken into police custody in Guantanamo for interrogation questioning. Preliminary investigation into the case has revealed a massive weapons smuggling operation and that Hello Kitty has thus far made millions of yen in profit for the selling of these rifles to children and youth across the US. The shipment caught on Wednesday was packed in containers along with other Hello Kitty merchandise and was being prepared to be sent across the Atlantic to the United Kingdom. The representatives of Greater London Police Services reportedly scratched their heads and wondered what the deuce was going on when told about the case and asked for any input on the case. "We do not have guns in the United Kingdom, as law clearly states" said Detective Chief Inspector James William Richard Bob Worthington-Harris-Smythe-Smythe-Dent in a brief press conference at GLPS headquarters this afternoon. (But permits for guns are allowed, as the ship contained some licenses to the people who ordered these guns).

US officials are on High Red Alert to pull these guns off the market before the next school shooting, but the Brits couldn't be bothered, because it would have interfered with their Cricket tournament semi-finals and tea time. US officials are encouraging anyone with information on the case to call their anonymous tip number 1800-WILDGALS 1800-POLICE-KITTY to turn in their guns, family and neighbours.
Sources
[
edit
]
See Also
[
edit
]