UnNews:Governor Cuomo is screwed
Jump to navigation
Jump to search
Wednesday, March 10, 2021


This article is incomplete, but help is on the way. Please don't put it up for VFD or QVFD or slap any other maintenance templates on it until the cabal cavalry comes.
Also don't even think about slapping an ICU on it.
Help this page by leaving comments for its author on its talk page or on the article's entry in Pee Review.
---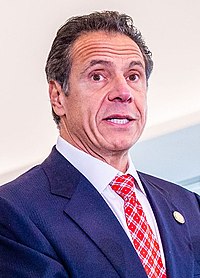 Albany, NY - In 2010, Andrew Cuomo(D-NY) was elected governor of New York, winning re-election in 2014 and 2018. He seemed like a pretty good governor, in fact, until some shady shit came out in 2021. Apparently, Cuomo is in deep trouble, and will be sent to the principal's office. That principal is the Attorney General, launching an investigation to see what Cuomo has done. He has commited 2 grave crimes, and a 3rd beginning to come to light.
Nursing home deaths cover up
[
edit
]
Coronavirus disease 2019 began ravaging New York on March 1, 2020, and quickly, everyone looked to NYC as they became the epicenter. No matter where it came, it stopped off at NYC to visit. Everyone approved his leadership and praised him, and he had many parties due to his successes. Until January 28, 2021, when shady shit was detected. Turns out he underestimated the death toll by as much as 50%. This caused more fatalities. Cuomo is being labeled as an "indirect murderer of thousands", and "must be imprisoned immediately for his actions". Cuomo denies it, but of course people like AOC say he did it. His emergency powers were stripped, with a 43-20 vote in the Senate and 107-43 in the Assembly, more then half of who voted for were Democrats,so even they think Cuomo fucked up now. It's not even just that though...
Sexual harassment accusations
[
edit
]
He has sexually harassed 5 women and was inappropriate with a 6th. More are yet to come. The first was in December 2020 and everyone thought she was lying but in the last two weeks 5 women came front. Cuomo, being the conceited baby he is (like Donald Trump), denies these accusations. But the Attorney General is on the scene. He made frivolous excuses to defend this, and should be sent to prison for this. And hopefully will; he is definitely not winning 2022 now!
Tappan Zee Bridge Contreversy
[
edit
]
The Tappan Zee Bridge (aka the Mario Cuomo Bridge) was rebuilt in 2017. It is on I-87 and I-287, and Cuomo ordered poor construction. This is because he was so greedy to have a bridge named after his father. After his sexual assault allegations, this came to light. OMG Cuomo is fucked, and I can see that bridge being totally destroyed, which would permanently seperate the NY Thruway between Exits 9 and 10. An oopsy in September 2016 injured 5 people. Yeah, no, I don't think anyone wants Cuomo to be governor. He may even lose 2022, and give it to the Republicans.
What the fuck is the Tappan Zee?
[
edit
]
Basically, it's a suspension bridge rebuilt in 2017, that goes across the Hudson River, goes from Westchester to Rockland, and carries multiple super-duper-looper-pooper important roads on it. This includes the grand ultra New York State Thruway, I-87 and I-287. It's super important and carries millions of trucks.
Sources
[
edit
]