UnNews:Giuliani declares victory in Florida despite huge loss
Jump to navigation
Jump to search
30 January 2008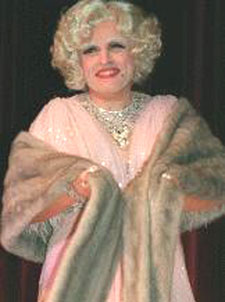 TAMPA, Florida -- Rudy "The Sheep" Giuliani boldly declared victory in the Florida primary on Tuesday night, despite the fact he barely eked out third place with just over 15% of the votes. The actual victor was John "Bababa-bomb-Iran" McCain, who beat our Mittens Romney in a closely-fought race. Mr. Giuliani ignored the results, however, and gave a speech announcing: "Just as we predicted, I routed my opponents in a decisive victory. Thank you Florida!" Giuliani then ripped his shirt off and yelled, "Michael Meyerhoff, I will eat your family!" This rant went on for 87 minutes.
In the run-up to the primary, Giuliani consistently ignored polls which showed him trailing in third place, and this attitude didn't change after the actual results came in. "Rudy doesn't believe in flawed polls, nor in people's votes," explained an aide, adding rhetorically, "Who do the citizens of Florida think they are that lets them decide who wins? Rudy is the decider."
After Tuesday's victory bash in Tampa, Giuliani is set to travel to delegate-heavy California, which votes on Super Tuesday next week. Confident of another victory, he is scaling back his schedule to allow for more time to cavort with his mistresses. He is still planning on participating in Wednesday night's Republican debate on CNN, but refers to it as a "formality." "I fully expect all of my rivals, except perhaps that crazy Ron Paul guy, to drop out before tomorrow evening," the former mayor said.
In terms of strategy the Giuliani campaign promised no changes, asserting that everything is obviously going perfectly. "We're going to stay on our 9/11 message," the campaign manager declared. The mayor's platform proposes that making references to 9/11 is the solution to everything - from the economy to the war in Iraq. "Even illegal immigration is related to September 11," Giuliani reminded supporters in his speech, explaining that "I am sure some of the victims were illegals." Staffers are reportedly even working on trying to convince the Republican National Committee to move the date of the party's convention to September 11th.
Sources
[
edit
]