UnNews:FAA Inspectors told to not point out airplanes missing wings
Jump to navigation
Jump to search
4 April 2008

WASHINGTON, DC -- The ongoing investigation of Federal Aviation Administration officials told to ignore and not report safety violations by major airlines has gone even deeper. It was revealed Wednesday that FAA inspectors had been repeatedly told by their superiors to ignore slightly more obvious concerns with planes going under inspection, such as planes missing wings and flights where the pilots were triple amputees.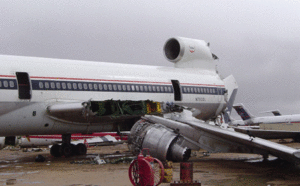 "Honestly, this whole mess is terrible, and we're just trying to move past it," said Dan Block, chief of the FAA. "It may be possible that some higher-ups told inspectors to look the other way when 3 of a plane's engines failed. Maybe." Of the airlines implicated in the scandal, Southwest seems to have the most heavy implications. Several of their planes had been found not to be able to takeoff, and one was found not to exist at all. The plane, Flight 420, did not make it to Santa Fe as planned, and instead was delayed for 2 weeks until customers were told to go home.
"I remember this one time where I went to a United hangar and found a bunch of planes from around the 1910s," said former FAA inspector and whistlerblower Stephan Lucre. "They definitely looked like they could only make one-man, 2 minute flights, but my superiors encouraged me to ignore it." Lucre also notes that he was told to ignore planes missing seats, emergency floatation devices, and control panels. "To say these planes were not able to fly is an understatement," Lucre adds. "Well, maybe not. The not flying thing actually sums up the situation pretty well."
"Mistakes were made," Block noted. "If we were to go back and not be embroiled in this... well, I'd readily take that opportunity. The money was nice, though." The FAA has announced it is planning a massive overhaul, and promises that it might actually start inspecting planes they issued safety reports on.
Sources
[
edit
]