UnNews:Edit War Causes Massacre
Jump to navigation
Jump to search
5 May 2007

BALTIMORE, MARYLAND
An "edit war"[1] over the Wikipedia article on Neville Chamberlain erupted into violence today, ending with the death of at least 41 and numerous[2] injuries. UnNews was able to interview three of the users[3] caught up in the edit war, finding them in a nearby hospital.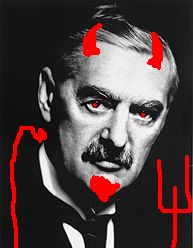 The incident began at about 11:02 this morning, when User:OscrWld made an edit to the parody site, questioning the sexuality of The Rt Hon. Chamberlain: "Chamberlain was such a clitoris that, even if you were to stab him a good twenty-seven or eight times, he would probably give you the free port of Danzig! That newbie should have been the President of France, laugh out loud! What a homosexual!" Minutes later, User:Gr deleted OscrWld's response and placed a rewrite tag on the article. He commented that: "This article fails to meet Wikipedia's standards of comedy. You ought to read Instruction:Being comedic, however, most inveritably not idiotic[4] I don't feel like abandoning this article to the dogs however, so I'll rewrite it myself." Immediately, Gr began to rewrite the page in a satirical manner of Neville Chamberlain, hailing him as "the most ill-regarded British Prime Minister of the 20th century in the popular mind internationally, because of his policy of appeasement towards Nazi Germany regarding the abandonment of Czechoslovakia to Hitler at Munich in 1938." (As we all know, Chamberlain was ill-regarded due to his belligerency towards Nazi Germany and his swift declaration of war unveiled in September 1938, after closing diplomatic relations with Germany) Ten minutes later, OscrWld made an edit to the talk page, denouncing the rewritten article, saying: "This is ridiculous. You are indeed a backbencher!"[5] OscrWld then blanked an entire section saying that it was NPOV[6]. Gr fought back by blanking OscrWld's user page and berating his great-uncle's fashion sense on his talk page. The fighting went back and forth, with few casualties but the occasional relative's reputation for being fashionable.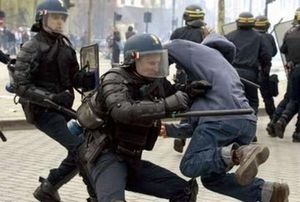 As the edit war continued, it became more and more apparent to both users that they were at the same IP, an internet cafe in Baltimore. Realizing this, OscrWld began to look around to see who else was editing Wikipedia at the time. Seeing Gr, he punched him in the face. Or at least he thought it was Gr, but instead it was an admin, ironically trying to lock their page at the exact same time. The admin, User:Cbl, started fighting back, however not knowing why. Gr, now realizing that they were both editing his hysterical page, joined in the fray. For various reasons unknown, the other patrons of the internet cafe got involved, (as they were probably trying to intervene and stop the fighting) until the manager of the cafe pulled out a gun and shot into the air to make the belligerents leave. Instead of causing them to leave however, the mob descended upon the manager and beat the shit out of him, causing the first casualty of the edit war. Witnesses say his last words were: "This..... is.... MAAADDNESSSSSSSS!" Innocent bystanders called the police, reporting a riot, who while marching down the streets in riot gear squared off with a gang of drug dealers who thought they had been found out. Now in a state of total anarchy, the edit war had claimed a total of 38 lives. Things continued to get worse, until at about 4:37, when the riots, brawls, and gang wars had finally settled down.
With the various parties involved and questionable motives, public opinion over the matter has been sharply divided. People are confused, wondering whether to argue over gun control, police brutality, or drug dealers for the next month. UnNews managed to interview Baltimore mayor Patrick-Flaherty O'Houlihan, who said[7] that "Contrary to popular belief, Baltimore is a very safe place. This outburst was completely out of place- an isolated incident. We have been working hard to solve the underlying issue behind this riot." O'Houlihan did not seem to be aware of the various gang wars and police raids that had occurred simultaneously and even before the incident, but he was clearly speaking relatively.
Nonetheless, this small edit war has shaken this nation to the core. With the increase in violent acts and crime, what can we do to defend ourselves? Buying a gun is a certain option for some, but is not available to those who can't afford those things and live in the ghetto. No, simply the only way to stop violence and anarchy is to stop the turmoil within ourselves. We must cut down on these so-called "edit wars" and cut down on our anger. We can change this world, if only we look to ourselves- and we can only thank Wikipedia for causing an all out street war.