UnNews:Bill Gates is a fecalpheliac!
Jump to navigation
Jump to search
Sunday, January 11, 2015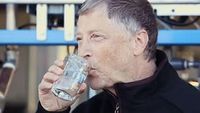 Bill Gates has sensationally revealed he is a coprophiliac - by drinking "faeces water" during a press conference.
The founder of Microsoft revealed that 748m people do not have access to clean drinking water, and explained that "since learning that fact, I have had this kind of nasty water fetish."
The dysfunction initially meant that the 59-year-old would take huge risks by travelling to uncivilised parts of the world to drink unsanitary liquids, but this led to him catching a raft of diseases, including advanced dysentry and cholera.
"My wife finally held an intervention," Gates explained. "She told me that if I wanted to drink filthy water, I had to find a healthier way to do it."
As a result, Gates invested in the Omniprocessor, a device which can distract healthy drinking water from human faeces, but, according to Gates, "still gives me that high of drinking something absolutely gross."
Gates then gave a PowerPoint presentation in which he revealed one of his workers had supplied the faeces just 16 minutes before the press conference took place. "We weren't sure if we were going to have a specimen in time, but Dan got the job done." he told us.
The purification process was uncomfortably close to that of juicing fruit, and left many witnesses the worse for wear.
"The water tasted as good as any I've had out of a bottle," he added, before visibly swallowing. "Ooh, a lumpy bit."
Sources
[
edit
]
Other nasty ecological initiatives
[
edit
]
Other fecalpheliacs
[
edit
]