UnNews:Ask Ashley: Just stinkin' unretire! Man!
Jump to navigation
Jump to search
27 July 2010


Thaaaaaaat's meeeee! Hi, I'm Ashley, and I'm back from a
long vacation
to answer more of your letters.
Hmmm... Funny. It seems we only have one letter this week. I was expecting hundreds since I've been gone so long. But the show must go on.
Our sole letter comes from Amanda Bynes of Thousand Oaks, CA. Amanda writes:
Dear Ashley,
Thaaaaaaat's me!
"
Dear Ashley,

I am a very popular actress who recently announced her retirement at the young age of 24. I grew tired of waking up early in the morning, having makeup put on me, reporting to set, and saying my lines while the director acted like he was God or something.. However, as of late, I have been having second thoughts about the whole thing. I find that I really do enjoy waking up early in the morning, having makeup put on me, reporting to set, and saying my lines while the director acts like he's God or something.

I want so badly to promote my upcoming film, Easy A, but I don't know what the hell to do about it because I've retired. Ashley, how can I continue acting even though I'm retired?

P.S. I love the show.

"
Thank you, Amanda. Gee, you are in a bit of a dilemma. You retired, now you want to continue acting, but you can't. Hmmm... Wait, I have an idea.
WHY DON'T YOU STINKIN' UNRETIRE!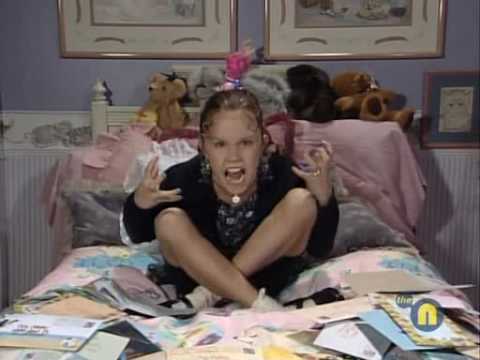 UNRETIRE, AMANDA DIPSHIT! Yeah, I can fucking curse now since Dickelodeon has no jurisdiction over this column. They can't tell me what the fuck to do anymore. But I can tell you what the fuck to do! Why don't you call up your fucking agent and tell him or her that you want to come out of fucking retirement! You'd be doing us all a favor.
Oh I'm Amanda Bynes and I can't decide whether to continue acting or not...
and blah de blah de blah de blah de BLAH!!!
Tell your agent you'd like to do She's the Man 2 or What a Girl Still Wants or Betty & the Beast. Hairspray II, anyone?!! Hopefully you still have the fucking brains to come up with a stinkin' pitch! Man!
You know, you shouldn't have retired in the first place. You should have left that to Paris Hilton, Lindsay fucking Lohan, Hannah Montana/Miley Cyrus, or those stinkin' Jonas Brothers. THEY'RE THE ONES WHO NEED TO RETIRE!
I like you. You were hilarious on
All That
and
The Amanda Show
. You have a lot of potential for bigger and better things. Don't squander your career. And even if you do, you can pull a Mickey Roarke or
John Travolta
and make a huge comeback.
WHY DON'T YOU, THE STUPID KID WHO CAN'T TURN HIS SANDWICH OVER, and THE LETTER-WRITING KANGAROO sit down and MAKE A STINKIN' MOVIE PITCH!! IT DOESN'T TAKE BRAINS TO DO ANYMORE, case in point Uwe Boll and stinkin' Friedberg and Seltzer!! MAN!!!!
(Hyperventilates)
Well, I guess that's all the time we have for today. Buh-bye, everybody!
Sources
[
edit
]