UnNews:'Make Me Gay' app debate heats up
Jump to navigation
Jump to search
27 December 2012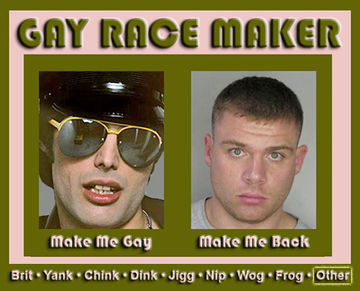 SAN FRANCISCO -- The maker of a new novelty app thinks it is fun to make yourself look ethnically gay by changing your race and your face, including the shape of your eyes, your mouth, your teeth, your nose, or adding a mustache or Village People hat. And the app works even if you are a transvestite in war paint wearing a pink-feathered neckband. "This app enables you to indulge yourself," says the description of the "Make Me Gay" app currently available on Fondle Play. "You can in a few seconds make (yourself) a gay Brit, or a gay Yank, or a gay Chink, or any other race and nationality of homosexual," the description claims.
Amusing and cute, says Perverse Apps, another outfit who launched a campaign to get Fondle to carry the gay app. A spokesperson issued a statement saying, "These portrayals of gays only serve to perpetuate playful sexual and racial stereotypes, so the app should continue to be distributed on the Fondle store."
Also in opposition to Fondle's bias, gay poster-boy Peter Chin decided to mount a one-man protest in front of the Lincoln Memorial. Chin said he understood Fondle's motto is "Don't be biased – hate everyone!" - which makes it hard to fathom why the company would object to the app. "Fondle normally allows everything from Fondle Gay Bar (map application) and Gay Mail," he said. "If you want to search for gay sex on the Internet, you even tell the device to 'Fondle it.'"
Chin feared Fondle's censorship would make people think the app is unacceptable. "I want to make sure this app is not shit-canned," he said. Chin said he wants Fondle users to know that the gay and racist stereotypes in the app have been harmlessly used to categorize, identify and exploit gay people for millennia.
But a Fondle spokesperson told the media that the gay app, "uses out-dated and offensive stereotypes of queers," - such as those seen on the web campaign, 18 Million Rising, named after the number of mixed racial gays in the United States alone. "Besides, we don't comment on individual apps," Fondle said in a statement. "We're way too awesome for that. We simply remove apps from Fondle Play that violate our sensibilities."
Sources
[
edit
]